The Lawrence Journal-World reported Lawrence voters approve $18 million library expansion. The final results showed voters approving the measure with a 55% affirmative vote.
Prior to the election, another blogger speculated that an election of this type was skewed by renters because the result might be Free Lunches for Renters. The blog and comments made rational observations of how renters might affect the outcome of an election that did not seem to impose a direct tax upon the renter.
Now the election is over; the results have been tabulated. Let's take an anecdotal look at the outcome of the election. More specifically, lets look at precinct results; and, (here is the anecdotal part) rental property within the City of Lawrence. Up front, this is admittedly non-scientific - it is simply a visual.
The first map shows each precinct in Lawrence and the election results of the precincts.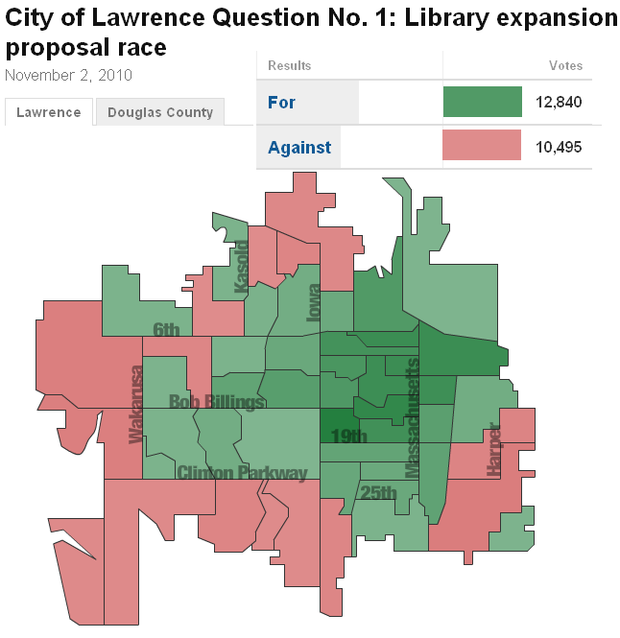 This screen shot was taken from an online website, MyApartmentMap, that brokers rental properties. The website seems to have a fairly complete listing of rentals in the area; however, it may or may not, be representative of actual rental properties in the city. So, until a better source is available, let's use this one. It provides a starting point, at least.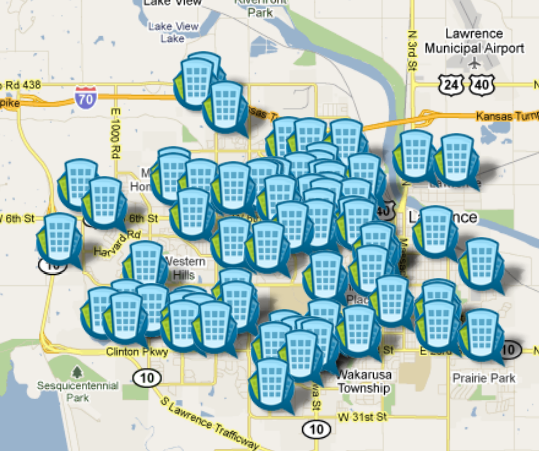 Finally, the second map has been superimposed over the first map.
This is simply a picture of rental properties and voting summaries. As they say at the library, "It could be worth checking out."
That is all. Carry on.
---
---
Sending a
Private Message
or email to
Did_I_say_that
, regarding the content of this blog, provides consent to use the content of the message.
Did_I_say_that can be Emailed here.
Visit
Did_I_say_that
's Blog Entries. *All images used under Copyright Law US Code Title 17, Section 107

The Lawrence Public Library has plans for an $18 million expansion that will be voted on this Tuesday, November 2, 2010. A library expansion is long overdue. However, the trustees have chosen the wrong time and the wrong proposal to put forward.
Taxpayers, faced with lower income and increasing taxes, cannot afford to have the city spend money that taxpayers do not have. The estimated cost of $13,000,000 - or $650 per square foot - is between two and four times the national average for construction of a public library. Reed Construction Data has analyzed projects from across the country and provides a summary of average library construction costs.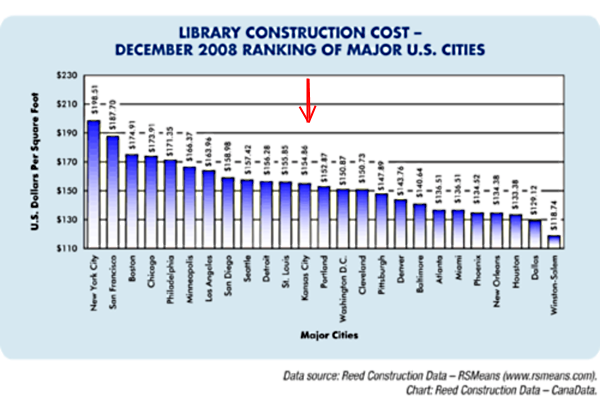 Library officials are also asking for an additional $5,000,000 for a 5-Story, 145,000 Square Foot Parking Garage which could park over 400 cars. Oops, my bad - that is just what taxpayers should get for $5 million. Instead they are only building a two-story garage that will allow for 230 parking spaces. Once again, the cost is estimated way above the national average of $15,552 per space, which comes to $3.6 million.

That is correct, the proposed parking garage should cost $3.6 million, coincidentally the same amount that it cost to construct Eagle Bend Golf Course, which was completed in 1998.

Now, isn't this a nifty little segueway?


Ironically, Alvamar, Inc. has just announced plans to sell the Alvamar Country Club and Golf Courses. According to a Lawrence Journal-World story, "The offering includes both 18-hole golf courses; the private clubhouse, dining room and related operations; the public clubhouse, pro shop and snack bar; an indoor/outdoor private practice facility; cart storage; a maintenance building; and access to a private pool on the campus of Bishop Seabury Academy."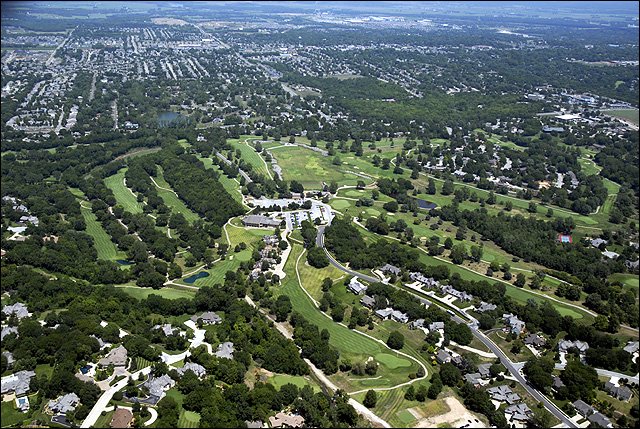 I propose that the City of Lawrence purchase the Alvamar Country Club as a joint (that means combined, not honk for hemp) venture between the Lawrence Public Library and Lawrence Parks and Recreation. This proposal would triple the City's golfing value by adding two outstanding courses for considerably less money per course than what it originally cost to open Eagle Bend. Parks and Recreation could use part of the land as a home for the proposed BMX Bike Track.
The current Country Club could be converted into an upscale satellite library. This library would sport one of the finest coffee shops and grills in the nation. There would be room for computers, a children's area, and possibly even room for some books. The satellite library would have plenty of parking and easy access. In fact, with access to the Seabury Acedemy swimming pool, it will have everything the downtown library has. All for only $6.5 million.
If you love children and literacy, but just cannot support a major tax increase that will fund a developer's over-priced proposal - vote NO on Tuesday. If you believe that there are less expensive solutions to improve our local library - vote NO on Tuesday. If you want to offer up a silly idea that is one-third the cost of the Library trustee's proposal, and would benefit more of the community, then write-in "Buy Alvamar." Just ask your election officials where you can "write-in" a candidate so as to not deface and void your election ballot.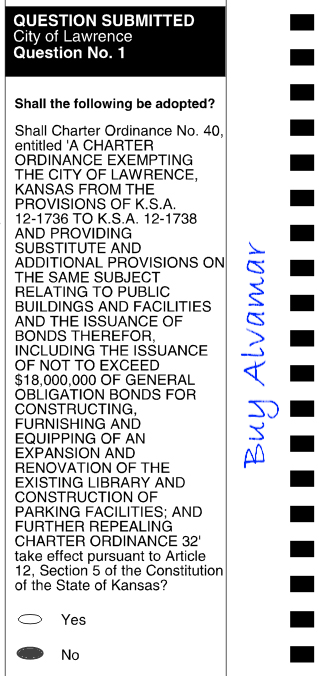 Seriously, just get out and vote!
---
---
Sending a
Private Message
or email to
Did_I_say_that
, regarding the content of this blog, provides consent to use the content of the message.
Did_I_say_that can be Emailed here.
Visit
Did_I_say_that
's Blog Entries. *All images used under Copyright Law US Code Title 17, Section 107