LJWorld.com weblogs Yes, I did say that!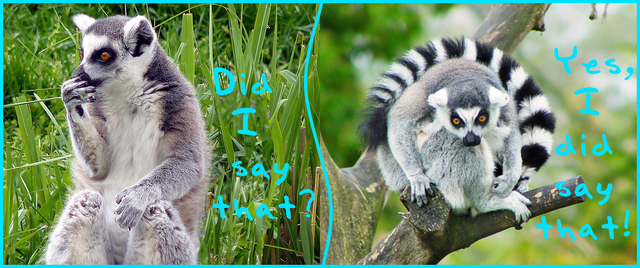 Library Expansion Approval - A Rented Vote?
The Lawrence Journal-World reported Lawrence voters approve $18 million library expansion. The final results showed voters approving the measure with a 55% affirmative vote.
Prior to the election, another blogger speculated that an election of this type was skewed by renters because the result might be Free Lunches for Renters. The blog and comments made rational observations of how renters might affect the outcome of an election that did not seem to impose a direct tax upon the renter.
Now the election is over; the results have been tabulated. Let's take an anecdotal look at the outcome of the election. More specifically, lets look at precinct results; and, (here is the anecdotal part) rental property within the City of Lawrence. Up front, this is admittedly non-scientific - it is simply a visual.
The first map shows each precinct in Lawrence and the election results of the precincts.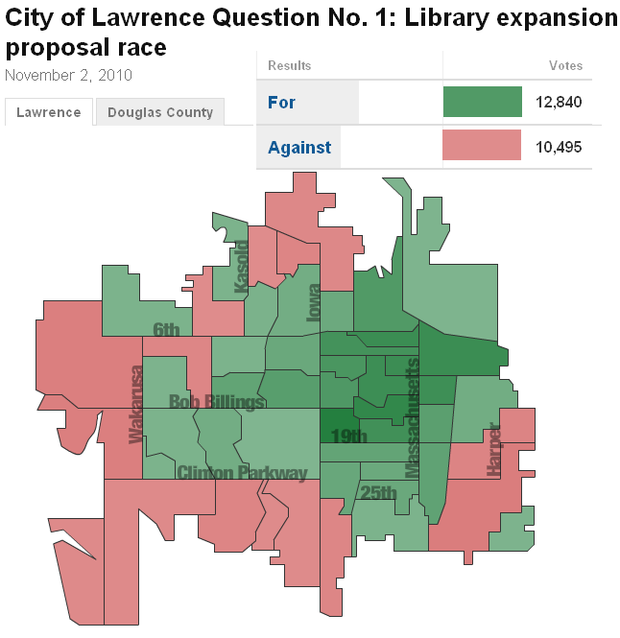 This screen shot was taken from an online website, MyApartmentMap, that brokers rental properties. The website seems to have a fairly complete listing of rentals in the area; however, it may or may not, be representative of actual rental properties in the city. So, until a better source is available, let's use this one. It provides a starting point, at least.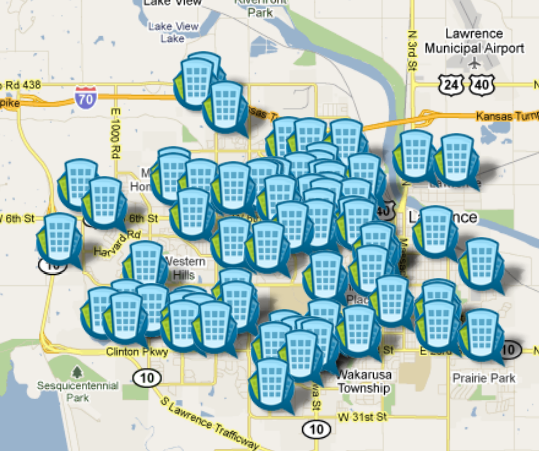 Finally, the second map has been superimposed over the first map.
This is simply a picture of rental properties and voting summaries. As they say at the library, "It could be worth checking out."
That is all. Carry on.
---
---
Sending a
Private Message
or email to
Did_I_say_that
, regarding the content of this blog, provides consent to use the content of the message.
Did_I_say_that can be Emailed here.
Visit
Did_I_say_that
's Blog Entries. *All images used under Copyright Law US Code Title 17, Section 107