LJWorld.com weblogs Bull Pen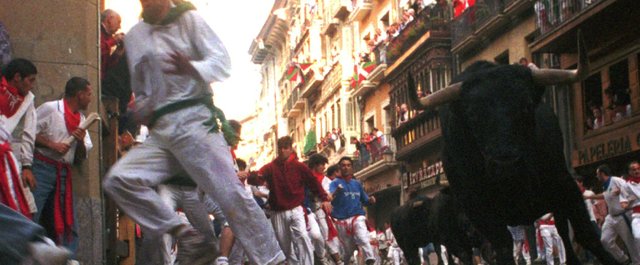 "The Last Jayhawker" - College sports meets "Inglorious Basterds"
James Naismith as a hardened assassin. Phog Allen as a sharpshooting marksman. William Quantrill as a basketball strategist.
These nonsequitors and more run rampant in a new short film called "The Last Jayhawker," which is making its way around the Internet just in time for tonight's tipoff. (Watch it at the end of the post)
Created by W. David Keith, Jon Mohr and Chris Dorsey, the short stars Kansas City-area actors, and envisions what would happen if William Quantrill, whose raiders burned Lawrence to the ground and murdered hundreds of civilians in 1863, met James Naismith, who you also may have heard of.
After his Kansas University squad is trounced by a Missouri team coached by Quantrill, Naismith is recruited by the U.S. government to lead a team of assassins into Missouri to take out Quantrill.
"I'm going to teach you to do two things," Naismith tells his Jayhawks. "Play basketball [or basket-ball, perhaps], and kill Missourians!"
The short climaxes with Naismith confronting Quantrill.
A gun to his face, Quantrill says, "The war's over, Jayhawker."
"You're wrong. It's just getting started," Naismith replies.
Well, it's over, as we know. But Keith, a Kansas City filmmaker who attended KU, wanted to bring to life an idea that formulated over beers during a past incantation of the KU-Mizzou basketball rivalry.
"We (Keith and Dorsey) were sitting at the bar watching the KU-MU basketball game and we thought, 'What if Quantrill didn't die and what if he lived at the same time as James Naismith,'" he says, laughing. "It would be the ultimate face off between the ultimate KU guy and the ultimate Missouri guy."
The film gets more violent than your typical basketball game, and Keith says that stems from "Inglorious Basterds," the Quinton Tarentino film that follows a group of American soldiers as they brutally hunt down Nazis. The film was released when Keith and Dorsey were kicking around the initial idea for "The Last Jayhawker."
And just like Tarentino, Keith and company took historical liberties.
"It's all tongue in cheek. Its all in fun," he says. "James Naismith starts out as a nice, friendly, loving man, Bible-toting, which in real life he was, and then his hatred for Missouri that 's pushed upon him by others overcomes him. That can happen to any KU fan, especially this time of year."
While Naismith only played Missouri twice, losing both times, Keith says the scene in which the Jayhawks are pushed around on the court is based in reality.
"The game that we have in the movie was based on the time he played the Kansas City YMCA, where they played children of Bushwackers," Keith says.
Keith, who is also a cartoonist, says the film was originally discussed as a graphic novel. But he wrote a full-length script, and hopes to one day film the entire thing.
But depending on what the college sports powers-that-be decide, some folks may not understand the enmity between KU and MU.
"The next generation won't have that rivalry like we have for 100 years because we're not going to be in the same conference and if we don't play the rivalry's gong to go away," Keith says.