The Kansas State Fair is in full swing this week. Half of Kansas must have been there last Sunday. Well, perhaps a bit of an exaggeration, but many took advantage of a near perfect day to experience a Kansas tradition.No problem finding the fair. Hutchinson makes sure of that. http://worldonline.media.clients.ellingtoncms.com/img/blogs/entry_img/2008/Sep/10/Copy_of_DSC00051.JPGFood is the fair. A sample of our day will give you a taste of what is available: fried green tomatoes, Pronto Pup, BBQ beef sandwiches, nachos, cotton candy, hot apple dumpling and cherry strudel alamode, a couple of funnel cakes, ice cream cones, malts and root beer. Did I say healthy eating is a part of the fair?http://worldonline.media.clients.ellingtoncms.com/img/blogs/entry_img/2008/Sep/10/Copy_of_DSC00020.JPG Big swings, upside down rides, loud music. The carnival harkens. We put down something like $30 for the Farris wheel, several white water rides, bungee jump and the Mega Loop. A bit expensive but fun stuff for ten and eight year old grandkids.The Cosmosphere, Hutchinson's outstanding space museum, managed to blast off several rockets during their presentation. Good information for elders and children alike.http://worldonline.media.clients.ellingtoncms.com/img/blogs/entry_img/2008/Sep/10/Copy_of_DSC00034.JPGThe Pride of Kansas Building is home to the biggest pumpkin-all 652.7 pounds of it. While looking at the pumpkin, check out the butter sculpture. A display of noxious weeds of Kansas puts names to plants.During the day we walked past the chainsaw artist, hot tubs, several free music concerts, hot tubs, farm and lawn machinery, hot tubs, a large Army tank for inspection, hot tubs. Wonder how many are soaking in a state fair hot tub right now. The 4-H building houses many hours of work. Photography is a popular project. The cow looked ready to have her calf at the Kansas Veterinarian exhibit. We checked twice, but no baby. Who can blame her with everyone watching?Then there are the exhibitors. It seems they add a new building each year to house the politicians, state agencies, state colleges (yes KU had a big exhibit) and many businesses. We wondered over to the area under the grandstand, just for old time sake. A vacuum cleaner salesman perks up as we approach, but we avoid eye contact and he is too tired to rein us in. Not so the cleaning and cooking innovator sales persons. They had their mojo going. Standing off to the side, it reminded me of a card dealer at the casino. The crowd watches the amazingly quick hands work the product. Then just when you catch the crowd start to slightly move away probably thinking, "I don't need that" extra gadgets are thrown in and the money flows. We didn't sit elbow to elbow with an arm wrestler nor enter the text messaging contest (overall winner gets $1,000), ride the sky ride or purchase a hot, butter-dipped grilled ear of corn. There is always next year.One of the best entertainment bargains in the State, the tickets are $8 adults, $6 seniors, and $4 children over six years old. It runs through September 14th. Plan three hours one way for the trip to Hutchinson. Try to arrive about 10:30 am in order to have a chance to catch all the programs for the day.It never changes. The Kansas State Fair is where tradition and excitement meet.
Sherlock Holmes and I have something in common. A magnifying glass as a tool to solve mysteries. My mysteries are not literary. Gathering clues from state brochures, welcome center hosts, local residents, friends and of course internet web sites, I then use a magnifying glass on a map. (Does anyone else have trouble seeing a map?) This is my way of solving how to navigate through a state using the best scenic routes. As much as I love electronics, so far no GPS. Recently, I read on one of my favorite blog sites, National Park Traveler, in select national parks for $15 a day, you may rent a GPS gadget that you place on the dash. As you reach a certain location, it will present an interpretative of your surroundings. While this might not be much different than CDs available at many National Parks, Kurt Repanshek feels it has the potential to be much more popular perhaps even to the point of eliminating the give and take of human interaction.Repanshek, a former AP journalist and now freelance writer, writes in a blog post September 27, 2007, "is the relevance of our national parks dangling on the future of where technology takes us?" National Park Rangers are highly trained and knowledgeable about the area they serve. Their presentations are well prepared. Most importantly, they answer questions. The interaction is invaluable. As far as I am concerned, a visit to a National Park, including our National historic fort sites in Kansas, is not complete without a presentation by a ranger followed by questions and answers.Repanshek addressed this subject again several days ago when he posted "Another look at those GPS Rangers in National Parks." He admitted they have proven to be beneficial. Rangers can see where the traffic in the parks is heaviest, directing people to other sites. Many parks are cutting ranger positions and the electronic devices are filling the gap. Importantly, they include tours in American Sign Language. Kurt Repanshek again hints at his feelings when he ends his most recent post with, "Is this a good move for the National Park System?" Granted, it appears the interpretative GPS unit is a beneficial tool. On the other hand, I want to listen to a real person who has answers to my questions and stories to tell. I think it would be a mistake for the National Park Service to allow GPS gadgets to replace our National Park Rangers.I think Sherlock would agree, is always good ask questions to better magnify a mystery.
It's not like I've never fished before. As a kid, I remember fishing with a cane pole, bobber and worm for bullheads in Clarks Creek, later running lines all night for channel cat at Reading Lake, catching walleye below the dam at Perry and trolling for white bass at Milford Lake. Heck, we even spent a week fishing for walleye at Canada's Cedar Lake several years ago. Of course, there is Clinton Lake and the farm pond.Until last week, I have never fished for trout.We are camped in Routt National Forest west of Ft Collins, Colorado. The talk at the bait shop in Gould is people are catching trout on worms, salmon eggs and power bait below the dam at North Michigan Reservoir located in nearby Colorado State Forest. Three friends from our party and I are on the road at 6:00 am the next morning excited about the possibility of catching our breakfast. I am dressed in a winter coat against the 35 degree morning. As we approach the lake, to our dismay, a car is there. Did someone beat us to the spot? We peer over the dam to see the young family who told us where to fish the night before. We begin the steep descent to the area below the dam. The adults already there are accomplished fly anglers, beautifully arching their lines to settle the bait wherever they want it. We have rod and reels.
The couple assures us they will share the limited space around the pool. My friends get their hook baited and in the water. I am struggling to get the hook tied with my cold fingers. Finally, we are all "in." My friends each catch a fish. I am hung up.Hook retied and baited, I am back in business. I feel the hit, jerk to set the hook and the trout flies out of the stream and lands behind me. Excited about the fish, but embarrassed about my performance, I hurriedly put the fish on a stringer. The young couple quietly asks their son to move closer to them.Everyone is catching fish. I feel another hit. Excitement takes over and I yank-too hard again. The fish escapes. The hook catches on the side of my jeans. Nothing to do but cut the line and leave the hook hoping no one notices. I tie on another hook and move to a different location away from everyone. I finally catch another fish. We soon leave as everyone except me has caught their limit.
We return two more mornings and catch our limit each time. I improve. When asked about the fishhook in my jeans later that first morning, I said I put it there so it wouldn't get lost. That's my story and I'm sticking to it.

Is it diamonds in the grass? Yes, only it's dew drops at sunrise. Sparkling prairie and occasional wildflowers seem undisturbed the morning after. I peek out of our modern covered wagon, see empty tents, gently waving flags and remember.Symphony in the Flint Hills greeted 6,000 visitors with a miracle of sunshine and a gentle breeze on Saturday, June 14, 2008, at the Lakeview Ranch south of Council Grove. Horseback riders ever willing to visit and tell about their horse and life on the prairie greeted us on the walk to the concert site. As we arrive, we are surprised to see Bruce and Susie Taylor, lifetime Chapman area residents. They are enjoying a day away from the traumatic past few days at home. Although they personally did not have damage, members of their family did. It was good for them to talk and us to listen.We still have time for three seminars before our volunteer duties. Luther Pepper, a member of the Kaw Nation, tells stories of the early Kaw/Kanza Indian presence in the Flint Hills. Kansa means "south wind people." The men hunted and the females cultivated, harvested and stored. They called the prairie their home from the 1600s until 1854 when they were moved south to Indian Territory now Oklahoma.Leo Oliva is a long time expert on the Santa Fe Trail. On September of 1821, William Bicknell and four other people set out from Franklin Missouri with goods to sell at Santa Fe. They make a 2,000% profit and thus the beginning of the well-known commerce trail established centuries earlier by prehistoric Indians.Seminars in the Butterfly Milkweed Tent feature families who have deep roots in the Flint Hills. Their love of the land, cattle and open spaces is obvious. Modern ranching is computerized and complicated. I did not hear one panel member say they wished to do anything else.We eat a traditional picnic dinner of barbecued beef and pork and all the fixings. Many others tote in picnics and eat on blankets spread on the hillside. The concert is beautiful. The vastness of the open prairie provides the perfect backdrop for a symphony, which at its loudest speaks to thunder and softest the song of Bob White Quail and Meadowlark. After intermission, we notice wranglers slowly herding cattle over a knoll. Horses and riders hold them in place as the music continues. Then, as Overture to The Cowboy (1980) by John Williams begins, they herd the cattle over the slope and through a break in the hill behind the orchestra. The cowboy music with the visual makes me tearful.As if on cue by the conductor of the Kansas City Symphony, Damon Gupton, the sun slowly slips down over the hills at the last note of the concert. Most packed blankets and chairs and headed home. We opted to watch the stillness set in over the prairie then headed for the star gazing area to look at an almost full moon and stars. I was able to see Saturn's rings, a thrill. Earlier in the day, Peg Jenkins, a Flint Hills rancher, eloquently told her thoughts about living her entire life in the prairie. "There is sacredness in the grasslands. You can see God. When I was a girl, I dreamed I would ride to the top of every hill to see what was on the other side. I have never had any desire to do anything else" Thank you, Peg, for sharing your prairie:and its diamonds.
Click on photo for slide show.
Wilson, Kansas, population 800, has pride.With declining school enrollment and more than one-third the commercial downtown buildings vacant, David Criswell, President of Wilson PRIDE, Inc. decided to write a grant to the Case Foundation, an organization committed to helping cities achieve sustainable solutions to complex social problems.Recently he was informed his city made the Top 20 out of 4,641 applications. Not only is Wilson the smallest community in the Top 20, but the only one in the middle of the US. Other finalist cities include Denver, Colorado, Vancouver, Washington, Chicago, Illinois and Philadelphia, Pennsylvania.Placing in the Top 20, awarded the city of Wilson $10,000, which Criswell says, "We will use to do an aggressive community outreach, visioning and goal setting project."If the grant entitled "Wilson For The Ages" gets enough votes to make it to the Top four, they will get an additional $25,000, a significant achievement for the small town midway between Salina and Russell on I70.Wilson needs our on-line votes to compete against the big cities in the competition.Voting is simple. Click here on Case Foundation, vote for four, placing Wilson first, and follow the commands. To record your vote go to your email in-box and click on the link sent to you by the Case Foundation. Hotmail and gmail type accounts might not work. Your internet carrier issued email address is best. Votes must be confirmed by April 22, 2008.After last week, the Lawrence community appreciates the pride that comes with hitting a goal. Help Wilson Kansas hit theirs.
What is it about a waterfall. Is it the sound? Feel of mist or reflection of light as it cascades down?All together, waterfalls bring a joyous feel to nature.What if I said there are natural waterfalls just a few hours drive from Lawrence? There are--in Kansas. Come with me to my favorite.
Pillsbury Crossing near Manhattan is 59 acres billed as one of the most scenic areas in the Northern Flint Hills region. We agree. Managed by Kansas Wildlife and Parks, it provides free access to a natural crossing of Deep Creek. In normal conditions, water flows gently over a natural flat limestone crossing then over a beautiful horseshoe like waterfall. The day we were there, the water was flowing over the falls nicely but still low enough families were wading about the crossing.
Quoting from the Kansas Flint Hills Tourism web site: "During normal stream flow, you may canoe, kayak, or take a small row boat upstream as far as 1/2 mile. There are some areas suitable for primitive camping by special permit only. Birdwatching is popular, and there is a small hiking trail provided in cooperation with a local conservation club in Manhattan. Fishing is also popular at Pillsbury Crossing, where the fish include channel cat, spotted bass, largemouth bass, bullhead catfish, and carp."Pillsbury Crossing is a short 10 minutes drive north of I70 on Exit 313 (GPS: 39.12888 -96.44050). While in the area, visit the self-guided Konza Prairie Hiking trail . A 2.5 mile loop is perfect for the young members of the family and a full 6 mile loop for the full Flint Hills experience.Other Kansas waterfalls we plan to visit include Butcher Falls in Chautauqua county. The one mile stretch of Pool Creek has been determined by American Whitewater to be a class III section. It is located on the Bill Kurtis Red Buffalo Ranch near Sedan Kansas.The town of Elk Falls bills itself as the largest living ghost town. The town's namesake waterfall is located on the nearby Elk River is in the Ozark Region of extreme southeast Kansas.Alcove Springs was a stop on the Oregon Trail as it passed through Marshall County six miles northwest of Blue Rapids. The Alcove Spring Preservation Association in Blue Rapids, Kansas, maintains the short ½ mile hike to the actual falls where travelers waited for the Big Blue River to go down. This is a significant historical site as immigrant names carved into rocks are still clearly visible. It also has the distinction of being the burial place of a member of the doomed Donner-Reed party of 1846.Chase Lake Falls in Chase county on Prather Creek is on the Flint Hills Scenic Byway While there, we plan to visit the Tallgrass Prairie National Preserve with its showcase limestone mansion and Cottonwood Falls, site of the Chase County Courthouse.Kansas waterfalls might not be as high or plentiful as those found in other parts of the country but, they are historic, beautiful in their own right and you can't beat the amount of gas to find them.FRIDAY NOTE: Below is a beautiful Kansas waterfall located on private land sent by an anonymous reader. He indicates it is not too far from Lawrence. Any other private falls out there?
Note: Check Kansas University's Kansas Geological Survey Kansas Photo Display page. Scroll down to waterfalls and see pictures of those mentioned above and others of interest. Thank you to anonymous commenter Max1
A sandwich, salad and drink is the perfect road trip meal. It may be hot or cold, fat or thin, open or closed. Sometimes the good ones are hard to locate. If a traveler passing through asked where to find a good sandwich locally, these two would be my suggestion.Grilled Portabella at Wheatfields Bakery . Of course, I would enjoy a butter sandwich with any of their delicious breads.Planet Veggie with among other things, artichoke hearts, sun dried tomatoes, and tangy olive spread at Yello or Planet Sub Both of these favorites are in downtown Topeka.Hot beef sandwich at the Downtowner just east of 6th and Kansas Ave. Worth the trip just for the retro cafe atmosphere.The Reubenstein at Classic Bean. Really, any of their sandwiches named after famous composers are good.On the way to visit family in Colorado we stop for homemade bierocks at Made from Scratch in Wilson, Kansas. It is a good half way lunch stop. Before re entering I70 at the Wilson exit, stop at the Flint Hills Winery tasting room for a bottle of wine, cheese and crackers, almost as good as a sandwich.The Hot Brown was first invented at the Brown Hotel in Louisville, Kentucky. Although the hotel restaurant was closed when we were there, we sampled the hot open faced sandwich at a restaurant recommended by a security guard at Churchill Downs. It was delicious but very rich.A Lobster Roll is easy to find in Maine. Small locally owned walk up places are frequent in the coastal cities. They are good, but quite honestly, I would rather have a fried walleye shore lunch sandwich, the fish freshly caught.
A hot dog will certainly taste good when purchased downtown Chicago. Is there a better dog than at a football game? Yes, there is one better at the Art Fair in Breckenridge, Colorado, because it features caramelized onions. Probably the ultimate is a hot dog cooked over a bonfire.If you also have a sudden interested in sandwiches, check out the article, Best Sandwiches in America. Another gathering of lists of sandwiches is at Roadfood. The book, American Sandwich looks like a traveler's sandwich bible.These are my favorites. Additions encouraged.
The 8 Wonders of Kansas sponsored by the Kansas Sampler Foundation were unveiled by Gov. Kathleen Sebelius today. I believe they are a good representation of Kansas. However, my suggestion, located right here in Douglas County, did not make the list.I suggested rocks, more specifically pink boulders found along the Wakarusa river valley.According to Glacial Geology, the pink boulders were recognized in northeastern Kansas by the French explorer, De Bourgmont in the early 1700s. Their origin was a mystery until 1868 when Louis Agassiz visited the area. He was a controversial scientist who popularized the concept of a recent Ice Age in earth history. He correctly identified the pink boulders as erratics transported from as far north as the now Minnesota region by an ice sheet.The following is a quote from Glacial Geology of the Kansas City Vicinity:"Along the edge of the ice lobes, glacial lakes were dammed in pre-existing valleys, and meltwater floods eroded spillway channels around the ice margin. All these features serve to identify the effects of glaciation in the region. During the late Independence glaciation, ice lobes advanced farther south and locally blocked the Kansas and Missouri River valleys east and west of Kansas City. Numerous meltwater spillways were eroded and glacial lakes filled and overflowed along the maximum limit of glaciation. These spillways are preserved as valleys parallel to and south of the Kansas and Missouri river valleys. Some of these spillways were later filled with sediment and others remain open valleys today. A good example is the Wakarusa River valley in Shawnee and Douglas counties, Kansas."From the quote, one would conclude the large number of red granite rocks in the area were brought here by the glacier and then dropped as it melted. They are beautiful, all sizes and very heavy.The Wildlife and Parks hunting area in the upper region of Clinton Lake is available for hiking. On the northern hills of the river valley, Minnesota granite rocks, protrude from the grasslands. They may appear flat in the grass but may be massive in size underneath. The rocks located near the bridge on the north end of Massachusetts Street were harvested in this area.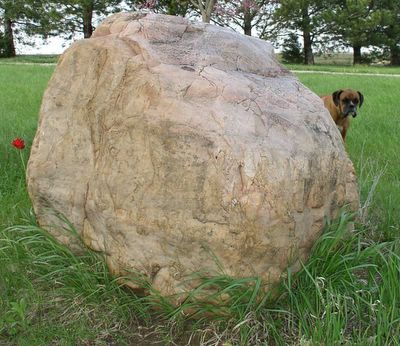 Skye, the boxer, indicates the size of the rock. Granite rocks would not make Kansas a tourist hot spot. On the other hand, how they were transported and left here is amazing. I would consider it a wonder of Kansas.
Growing up as Kansas flatlanders, skiing was on water in the summer.It was the early 70s when a friend suggested we try snow skiing at Mont Blue, a busy little ski slope southeast of Lawrence. Always ready for fun, we jumped at the chance.Mont Blue had a base house with fireplace, refreshments and ski rental. Equipment fitted, we headed out to the "mountain." To get to the top, we grabbed the towrope and hung on. Once there, we proceeded to fall and slide to the bottom. Laughing all afternoon, we got better and were hooked on skiing.Mont Blue was the beginning but the Rocky Mountains had better snow. Quickly discovering a ski vacation is expensive, we managed to find ways to make it affordable for our family. These are my suggestions.First, it is helpful to find at least one other family with a similar interest to share lodging as well as food. Our children have many happy memories from these trips with friends. Take a lunch to the slope in a backpack. Sandwiches, cheese, fruit. candy bars and sodas taste wonderful after a morning of exhilarating runs. We "hide" the backpack in a snow bank and retrieve it at a designated time. Most all warming houses on the slopes have seating for picnickers. Do this or pay $6 to $8 for a hamburger.Ski rental is cheaper as a package away from the slopes. Equipment malfunctions will quickly ruin a day of skiing especially if the rental store is two hours away. Make sure there is a satellite shop or the store has an agreement with a rental shop near the slope. No need to purchase fancy clothing. Ski pants are affordable and any warm coat will do. Always layer. Toasti Toes help with cold feet. Mittens are warmer than gloves. If you are a first time skier, plan on at least a half day of lessons. It is money well spent and may include a lift ticket. Lift tickets are a major expense. Breckenridge is now charging $80 a day. Check some of the lesser-known slopes. They might offer a family discount. Right now a $10 purchase of gasoline at a Phillips 66 in Colorado will get you a voucher for a buy one, get one free lift ticket on Sundays at Copper Mountain. Grocery stores in Denver offer discounts also. An article recently on Arama.com entitled Discount Lift Tickets - Learn what Colorado Ski Resorts Do Not Want You to Know! has additional suggestions. Finally, be adventurous. Keep a good attitude and have fun. Don't give up after the first try. It gets easier. There is no feeling like swishing down a slope with breathtaking mountains as a backdrop. Suddenly all the planning is worthwhile. Since our first try at Mont Blue, we have visited slopes in Colorado, New Mexico and Utah. Three of our five grandchildren, all under eight years old, skied for the first time last week. We still laugh coming down the slopes-all three generations.
Except for sub freezing temperatures outside, 25 co-workers and their families might feel they are in South Carolina rather than gathered in rural Douglas County on New Years Day.What created the warm southern feeling on a cold Kansas day? Frogmore Stew.Named for Frogmore, the mailing address for the residents of St. Helena Island off the coast of South Carolina, the stew is a combination of ingredients readily available on this historical island. While their neighbors in the States might have a BBQ, St. Helena residents add shrimp, potatoes, corn, and spicy bratwurst together in a pot. Our first try at the Low Country specialty began with a round of home brewed beer. Created by our favorite brew master and co-worker, it was dark, smooth, and served at room temperature. While enjoying our ale, we heated water and seasoning packets in a big (very big) pan over a propane burner. While new potatoes are the best choice, we opted for a large, firm baking potatoes cut in large pieces and dropped in the pot after the water was hot. Following potatoes, in went the precooked and quartered hot and mild brats. Almost the same time frozen corn on the cob slid in. Setting the table consisted of spreading plastic and newspapers over the entire surface. In addition, we added shrimp sauce, homemade bread and butter, hot sauces to taste, and many napkins.When the shrimp went in the pot, everyone gathered around ready to eat. Five minutes later, two people carried the heavy hot pot outside and poured the hot liquid through a strainer held by the third. Finally, they dumped the steaming ingredients in the middle of the table.http://worldonline.media.clients.ellingtoncms.com/img/blogs/entry_img/2008/Jan/01/Copy_of_DSC00056.JPGFrogmore Stew6 quarts water
¾ cup Old Bay Seasoning
2 pounds new red potatoes
2 pounds hot smoked sausage links, cut into 2 inch pieces
12 ears corn, husked and quartered
4 pounds large fresh shrimp, unpeeled
Bring water & seasoning to a boil in large stockpot.
Add potatoes and cook for 15 minutes. Add sausage and cook for five minutes more. Add corn and cook for another 5 minutes. Stir in shrimp and cook until shrimp are pink, about five minutes. Drain immediately and serve. Serves 12 depending on appetites.