Posts tagged with
Citizen Journalism Academy
Feral hogs once again reared their ugly heads in the upper Wildlife and Parks region of Clinton Lake. Only this time, USDA Animal Control Specialist, Chad Richardson and his staff were there.First spotted in 2002, the wild pigs have been a continuing problem to private landowners and farmers leasing farmland in the Wildlife and Parks hunting area. I personally became concerned when I spotted a group walking across the pasture directly behind our home, an area where our grandchildren play.The Lawrence Journal World reported the USDA helicopter flight on March 17, 2006. In June, 2006 the Kansas Legislature passed a bill banning public hunting of feral hogs. Finally, in a story on January 25, 2007, George Teagarden, Kansas Livestock Commission announced they would fly again in the spring of 2007 reported here. Although the problem continued to receive attention, I did not feel there was a united effort against the growing population. We continued to see them, often a sow leading a group of babies.The USDA, Kansas Livestock Commission and Kansas Wildlife and Parks handling of the feral hog problem in our valley has received criticism. I, personally, felt the helicopter could not be completely effective over our valley because of the foliage. Others felt the ban on hunting did not make sense. Meanwhile, the farmers continued to lose crops. Two were hit on the road with damage to vehicles. It seemed the problem had no practical solution.It all changed December of 2007. It was the Holidays, but Chad Richardson was on the job. He paid us a visit and indicated he was ready to work on the hog population.Thanks to Richardson's long hours and local cooperation, a coordinated program of trapping began. The ban on hunting kept the hogs localized in the valley. As a result, 60 hogs were caught in live traps the months of December and January. The helicopter flew again on February 4, 2008 with 23 taken at that time.Although there may be feral hogs left in the valley, I applaud Richardson for his efforts in removing 83 of them. I, for one, will feel safer walking down the valley road this spring.
The 8 Wonders of Kansas sponsored by the Kansas Sampler Foundation were unveiled by Gov. Kathleen Sebelius today. I believe they are a good representation of Kansas. However, my suggestion, located right here in Douglas County, did not make the list.I suggested rocks, more specifically pink boulders found along the Wakarusa river valley.According to Glacial Geology, the pink boulders were recognized in northeastern Kansas by the French explorer, De Bourgmont in the early 1700s. Their origin was a mystery until 1868 when Louis Agassiz visited the area. He was a controversial scientist who popularized the concept of a recent Ice Age in earth history. He correctly identified the pink boulders as erratics transported from as far north as the now Minnesota region by an ice sheet.The following is a quote from Glacial Geology of the Kansas City Vicinity:"Along the edge of the ice lobes, glacial lakes were dammed in pre-existing valleys, and meltwater floods eroded spillway channels around the ice margin. All these features serve to identify the effects of glaciation in the region. During the late Independence glaciation, ice lobes advanced farther south and locally blocked the Kansas and Missouri River valleys east and west of Kansas City. Numerous meltwater spillways were eroded and glacial lakes filled and overflowed along the maximum limit of glaciation. These spillways are preserved as valleys parallel to and south of the Kansas and Missouri river valleys. Some of these spillways were later filled with sediment and others remain open valleys today. A good example is the Wakarusa River valley in Shawnee and Douglas counties, Kansas."From the quote, one would conclude the large number of red granite rocks in the area were brought here by the glacier and then dropped as it melted. They are beautiful, all sizes and very heavy.The Wildlife and Parks hunting area in the upper region of Clinton Lake is available for hiking. On the northern hills of the river valley, Minnesota granite rocks, protrude from the grasslands. They may appear flat in the grass but may be massive in size underneath. The rocks located near the bridge on the north end of Massachusetts Street were harvested in this area.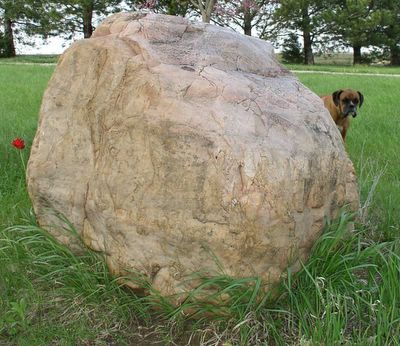 Skye, the boxer, indicates the size of the rock. Granite rocks would not make Kansas a tourist hot spot. On the other hand, how they were transported and left here is amazing. I would consider it a wonder of Kansas.
Growing up as Kansas flatlanders, skiing was on water in the summer.It was the early 70s when a friend suggested we try snow skiing at Mont Blue, a busy little ski slope southeast of Lawrence. Always ready for fun, we jumped at the chance.Mont Blue had a base house with fireplace, refreshments and ski rental. Equipment fitted, we headed out to the "mountain." To get to the top, we grabbed the towrope and hung on. Once there, we proceeded to fall and slide to the bottom. Laughing all afternoon, we got better and were hooked on skiing.Mont Blue was the beginning but the Rocky Mountains had better snow. Quickly discovering a ski vacation is expensive, we managed to find ways to make it affordable for our family. These are my suggestions.First, it is helpful to find at least one other family with a similar interest to share lodging as well as food. Our children have many happy memories from these trips with friends. Take a lunch to the slope in a backpack. Sandwiches, cheese, fruit. candy bars and sodas taste wonderful after a morning of exhilarating runs. We "hide" the backpack in a snow bank and retrieve it at a designated time. Most all warming houses on the slopes have seating for picnickers. Do this or pay $6 to $8 for a hamburger.Ski rental is cheaper as a package away from the slopes. Equipment malfunctions will quickly ruin a day of skiing especially if the rental store is two hours away. Make sure there is a satellite shop or the store has an agreement with a rental shop near the slope. No need to purchase fancy clothing. Ski pants are affordable and any warm coat will do. Always layer. Toasti Toes help with cold feet. Mittens are warmer than gloves. If you are a first time skier, plan on at least a half day of lessons. It is money well spent and may include a lift ticket. Lift tickets are a major expense. Breckenridge is now charging $80 a day. Check some of the lesser-known slopes. They might offer a family discount. Right now a $10 purchase of gasoline at a Phillips 66 in Colorado will get you a voucher for a buy one, get one free lift ticket on Sundays at Copper Mountain. Grocery stores in Denver offer discounts also. An article recently on Arama.com entitled Discount Lift Tickets - Learn what Colorado Ski Resorts Do Not Want You to Know! has additional suggestions. Finally, be adventurous. Keep a good attitude and have fun. Don't give up after the first try. It gets easier. There is no feeling like swishing down a slope with breathtaking mountains as a backdrop. Suddenly all the planning is worthwhile. Since our first try at Mont Blue, we have visited slopes in Colorado, New Mexico and Utah. Three of our five grandchildren, all under eight years old, skied for the first time last week. We still laugh coming down the slopes-all three generations.
In our home, the fake greenery interwoven with little twinkly lights around windows often stay in place until Valentines Day. The bright, cherry lights of the Holidays leave a void when finally packed away. I like the ambiance of the low lighting.Feeling our home looks like a tacky restaurant, I sought a another solution for brightening the long winter evenings. I found it in timers-those little gadgets that automatically turn lights off and on at certain times. Like the ones used on my twinkly lights.Because of our home's layout, the kitchen area is not cozy. It is large, open and has seating at one end where we read. I plugged the three lamps in that area into my Christmas light timers. Now they come on around 5:30 pm and go off at ll:00 pm. What a wonderful welcome. Stumbling in with all my gear after work, I found the three lamps casting their glow. The chairs and soft lights beckoned a cup of hot tea and a minute to relax. Just what the doctor ordered after a cold, dreary day.Tonight, I finally removed the rest of the Christmas decorations.The timers will remain until the longer days of spring.

Except for sub freezing temperatures outside, 25 co-workers and their families might feel they are in South Carolina rather than gathered in rural Douglas County on New Years Day.What created the warm southern feeling on a cold Kansas day? Frogmore Stew.Named for Frogmore, the mailing address for the residents of St. Helena Island off the coast of South Carolina, the stew is a combination of ingredients readily available on this historical island. While their neighbors in the States might have a BBQ, St. Helena residents add shrimp, potatoes, corn, and spicy bratwurst together in a pot. Our first try at the Low Country specialty began with a round of home brewed beer. Created by our favorite brew master and co-worker, it was dark, smooth, and served at room temperature. While enjoying our ale, we heated water and seasoning packets in a big (very big) pan over a propane burner. While new potatoes are the best choice, we opted for a large, firm baking potatoes cut in large pieces and dropped in the pot after the water was hot. Following potatoes, in went the precooked and quartered hot and mild brats. Almost the same time frozen corn on the cob slid in. Setting the table consisted of spreading plastic and newspapers over the entire surface. In addition, we added shrimp sauce, homemade bread and butter, hot sauces to taste, and many napkins.When the shrimp went in the pot, everyone gathered around ready to eat. Five minutes later, two people carried the heavy hot pot outside and poured the hot liquid through a strainer held by the third. Finally, they dumped the steaming ingredients in the middle of the table.http://worldonline.media.clients.ellingtoncms.com/img/blogs/entry_img/2008/Jan/01/Copy_of_DSC00056.JPGFrogmore Stew6 quarts water
¾ cup Old Bay Seasoning
2 pounds new red potatoes
2 pounds hot smoked sausage links, cut into 2 inch pieces
12 ears corn, husked and quartered
4 pounds large fresh shrimp, unpeeled
Bring water & seasoning to a boil in large stockpot.
Add potatoes and cook for 15 minutes. Add sausage and cook for five minutes more. Add corn and cook for another 5 minutes. Stir in shrimp and cook until shrimp are pink, about five minutes. Drain immediately and serve. Serves 12 depending on appetites.
Married less than two months, it was the summer of 1966 when we drove to a nearby state lake for our first overnight campout. We had an old army tent and plenty of food and beer. We slept on the ground. To those humble, early marriage beginnings, we added two children and various types of outdoor sleeping accommodations. Our family enjoyed freedom of open spaces, solitude, beautiful scenery and relaxing around a fire. Several years ago, our children long gone and retirement at hand, we began thinking about a recreational vehicle. In the past, we traveled to one place. We now plan longer road trips. We did not want to give up our independence in overnight accommodations, but needed something suitable for our age.We were not alone in our wish to own a RV. The Recreation Vehicle Industry Association (RVIA) states more baby boomers own RVs than any other age group. Although the purchase of new vehicles will slip somewhat in 2008 because of higher gas prices, projections indicate sales will still be the fifth highest in 30 years.Our search for an RV fitting our lifestyle started at the yearly early January Kansas City Sports Show in Bartle Hall. Even though a new RV would not fit our budget, we walked through the units on display to determine our preferences. We wanted something small enough to park anywhere and self-contained so we could stop for the night without a reservation. Finally deciding on a small van conversion with gas mileage comparable to popular SUVs, we began looking for a used unit.Newspaper want ads and online sales sites were excellent sources, but good deals moved fast. I did not hesitate to call or email questions. Without fail, owners were anxious to share information. Six months later, we purchased a five-year-old 17-foot conversion van found on an Internet-listing site. It had 17,000 miles on the speedometer and cost less than half of a new model. We picked it up in Minneapolis, Minnesota.It is everything we hoped. You might see us tailgating at football games or parked on Mass street in Lawrence. We have been to Maine, states in the Midwest and especially enjoy two-day trips right here in Kansas. We are planning an Alaska trip a year from this summer. We feel as secure parking in a large chain store parking lot (boon docking) as a remote hilltop. We use it year round. We call it our Freedom Machine.
The New York Time published an article Sunday, December 16, by Phyllis Korkki entitled Still Choosing the Mailbox Over the In-Box.In the article Ms Korkki noted that today 275 million first-class cards and letters are expected to be mailed. From Thanksgiving to Christmas the USPS estimates 20 billion cards, letters, packages and other pieces of mail will be handled.Korkki goes on to say many thought the Internet would be the beginning of the end of the USPS. Instead, the Internet, especially the online shopping aspect, has created the need for hard copy as well as a service to ship the packages. Consequently, since 2001, the first class volume of mail has remained fairly steady.Finally, Korkki says,"...although email is now a permanent part of the communication landscape, the old-fashioned letter is far from dead...."I agree. It is a great feeling to open my mailbox and find a letter from family or friends. I can reread it as often as I like and save it for reference later when I return the favor. And, sometimes the short three sentence notes are meaningful. My grand kids love to receive a note about something significant in their lives.What do you think. Do you still choose the mailbox over the in-box?
It is Monday evening and a major ice storm forecast looms. My backup front wheel drive 1987 model car is ready for my ninety mile route. With studded snow tires in front, it is better than four-wheel drive on ice.Tuesday morning it is raining steadily. The temperature lingers at freezing. I am not sure I have seen an ice storm begin with so much water run off. By noon it is running over the low water bridge on Deer Creek. Slowly the temperature drops and ice begins to accumulate on trees, fences and electrical wires. Trees bend more and more under the weight. Lines must be going down as the radio reports lost electricity.Low night temperatures and a thick coating of ice give way Wednesday morning to limbs, mainly Elm, lying under trees. Several times I hear a sharp crack and see a limb go down. Hardy cedar tree limbs simply bend to make a tent of ice forming a house underneath for rabbits and quail. Pines bend but hold. Oaks with leaves still attached have an extra burden. I saw one large branch loose the battle. With pastures frozen over, cattle stand at gates waiting for a bale of last summer's hay. Geese honk as they follow the Wakarusa Valley. Are they thinking of turning south? I would not blame them.I had company on the roads. Douglas County, Clinton and Kanwaka townships are busy blading and throwing sand. I wonder if they have been out all night as many roads and all bridges and steep hills are treated. A rancher with a big bale heads for the pasture. Along with me, brown, yellow and white delivery trucks bring holiday orders. It seems everyone else smartly stays home.Thursday dawns beautiful. There is no other word to describe the ice covered world under a clear sky and sunshine. Branches encased in ice radiated like stars or prism-like spectrum of colors. Ice on metal mailboxes melts from the inside out. A drive under a tree results in a barrage of ice falling like rain. Squirrels and turkeys, run about excited to feel the warmth on their backs. As the sun warms, steam rises. Birds, especially finches and sparrows fluttered in cedar branches. Hawks use warm updrafts from the melted fields to soar low looking for prey. Cattle spread out over the same fields grazing contently.Three days, the ice storm is history. In our area, most have electricity. Trees survive although some still bend as ice clings on northern exposures.What's next? Snow.
Click on picture for pictures of the ice storm.
I emailed my daughter for her permission to post this video. I thought it unfair that she did not know she was being taped. As a matter of fact, I did not realize the background conversation when I made this little poor quality video of our youngest grandson discovering the Christmas tree. When I previewed it, I decided both were worth preserving. Thank you Kim for letting me post this even though you think you sound a bit edgy. Considering it was dinner time and everyone was tired and hungry, it is a delightful conversation to overhear.
This is how our spur of the moment road trip through small towns of the Flint Hills materialized. My husband said, "How about:" and I said, "Let's go." That's it. It only takes an hour from idea to heading up the lane in our camper van. These kinds of trips happen other times of the year, but never before at Christmas. We are ready to leave by 6:00 pm. Armed with Marci Penner's Kansas Guidebook for Explorers, a list of the best Chicken-fried Steaks in Kansas from the Kansas Explorers Club, and a map, we plan to find good rural Kansas food and Christmas decorations.Overbrook is a progressive small town only 11 miles south of our rural home. It does not surprise us their decorations are nice. Normally, we stop at Conrad's for their special, but there are more towns to visit. So, from there we head west on Hwy 56. We consider the restaurant at Four Corners because the parking lot is packed, a good sign in small town Kansas. Alas, it is not on the Best Chicken Fried List it so we head on, past The Trop for those who know.Scranton's lighted snowflakes are very beautiful for the size of their main street. No tarrying, it is on to Burlingame and Santa Fe Cafe, which is on the List. Decorated for the season and housed in an obviously historical storefront, the Santa Fe Cafe is busy. Local families laugh and visit while waiting for their orders. Even though pan-fried steaks are a prerequisite, ours are deep-fried. No matter, the homemade gravy and real mashed potatoes make up for it. Full with enough leftovers for breakfast, one last look at Burlingame's lights and we are off.Continuing on the old Santa Fe Trail route, Hwy 56, we visit Osage City, Admire and Bushong. Community spirit is still strong in small towns because they all manage nice decorations. Council Grove did not disappoint. As we slowly drive main street it seems the lights outlining the buildings and the decorated storefronts have a charm befitting the historic town. We take a little extra time to drive back through before taking off south on Hwy 177 toward our destination of Strong City and Cottonwood Falls. As we turn on the street leading up to the town square in Cottonwood Falls, the sight of the historic courthouse completely outlined in white lights was breathtaking. Businesses on each side of the street are festive but not over done to take away from the beautiful building. We stop right on the street to take it all in.

By LindaKBy then it is 10:00 pm but Cottonwood Fall's Emma Chase Cafe is still rocking. We slip in a corner table and enjoy the bluegrass music. As people drifted home, the musicians soon outnumber the audience. Obviously, the jean and overall clad participants are having fun. The Emma Chase is winding down and so are we. We scout around for a spot to boondock for the night. Saturday morning finds us in a parking lot near downtown Cottonwood Falls. We enjoy our leftover chicken fried steak and coffee for breakfast and take off. I want to see the sunrise over the Flint Hills. We continued south on Hwy 57, part of the Flint Hills Scenic Byway. The sun is just peeking over the horizon as we stop at an overlook. Flint Hills as far as we can see with cattle still grazing despite the time of year makes this scene a quiet, inspirational moment. We continue south still enjoying the beautiful rolling hills, impressive barns and rock fences. Matfield Green is a tiny town, but earned an entrance to the turnpike.In no time, we are in Wichita and the outdoor/sporting store located in downtown near the convention center. We spend several hours shopping and turned toward home. We again exit at Matfield Green exit on the KTA because nearby is the Cassody Cafe in the town by the same name. The Cafe is on the Best Chicken Fried Steak list and we are hungry. Unfortunately, the menu said Thursdays only for the steak. We settle for their buffet of fried chicken and homemade beef and noodles with four-star gravy. The Cassody Cafe is a destination for motorcycle riders in the summer. From the pictures posted by the register, it appears the city doubles its size on weekends.As we once again stop at the tollbooth at Matfield Green, the lady recognizes it is our third time through. We laughingly tell her, Merry Christmas and head for home.
Prev Next