Things to do
Plan out your holiday season with these merry events.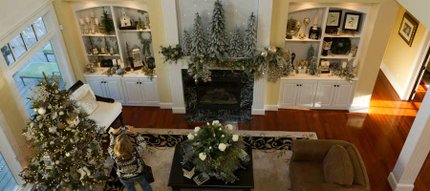 Marlene Witthaus, Lawrence, snaps a picture of Lisa Patrick's Christmas decorations, located at 4560 Bauer Brook Ct., during the annual Holiday Homes Tour Sunday, Dec. 4, 2011. Money from the event goes to support Health Care Access Clinic.
In its ninth year, the Holiday Homes Tour is featuring seven homes decorated for the holidays. The homes are mostly Lawrence houses, with one apartment in the Poehler Lofts and one home in Eudora, just off of Kansas Highway 10. The tour benefits Health Care Access, a local nonprofit that provides health care to low-income, non-insured residents of Douglas County.
Check out what's going on in your neck of the woods this holiday season.
Christmas lights hang from the ceiling, lining the perimeter of the Upper Room at the Centenary United Methodist Church in North Lawrence. Ornaments and wreaths hang from the walls, and garland lines the numerous tables, on which sit countless nativity scenes.
Last year's USA Today singled out Lawrence's Old-Fashioned Christmas Parade as one of the 10 best events in the country to find the Christmas spirit. The article noted that it brought out an old-fashioned feeling, a kind you don't see much of anymore.