Holiday entertainment and gifts
Know where to go and what to get with these gift guides and recommendations for holiday concerts.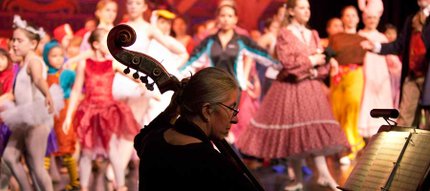 In this file photo, Kate Dinneen, Lawrence, plays a bass with the pit orchestra before the finale of dancers performing in A Kansas Nutcracker during a dress rehearsal on Wednesday, Dec. 7, 2011 in the theater at the Lawrence Arts Center. The Kansas Nutrcracker, written by Ric Averill, is a reinterpretation of E.T.A. Hoffman's The Nutcracker and the Mouse King, and is set in the Civil War era, rather, centering on Kansas history.
Local history and the holidays converge in an especially unique way for this year's "A Kansas Nutcracker" at the Lawrence Arts Center. With 2013 marking the 150th anniversary of Quantrill's Raid in Lawrence, Ric Averill's re-casting of the original "Nutcracker" story, set in Kansas in 1861, is as relevant as ever.
There is nothing quite like holiday music to carry the spirit of the season. And live performances can make the spirit even more contagious.
Last year's USA Today singled out Lawrence's Old-Fashioned Christmas Parade as one of the 10 best events in the country to find the Christmas spirit. The article noted that it brought out an old-fashioned feeling, a kind you don't see much of anymore.
As a child, Tandy Reussner had her heart set on being a doctor when she grew up. She met that goal, although not exactly in a medical way.