Giving back and more
Get involved in the community and help others in need.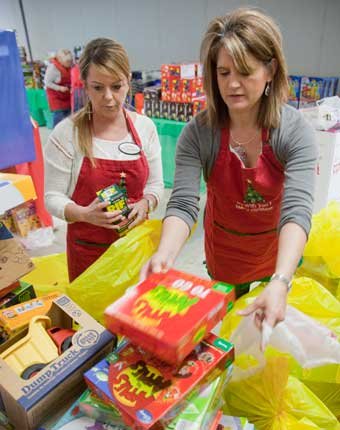 In this 2012 file photo, Carter-Wilson, left, and Jennifer Metzger work as volunteers at the Toys for Tots Store at 1540 Wakarusa Drive, Suite F, sorting toys for children and families who need assistance with Christmas gifts.
Area agencies hope that local residents will remember those in need this season with gifts of time and assistance. Opportunities abound for helping at holiday stores, events and food banks — or even just by ringing a bell.
For the 27th year, Liberty Hall will become a forest of decorated Christmas trees and wreaths donated by area individuals, groups and organizations to benefit The Shelter Inc.
This year's gingerbread house viewing and auction is more of a community event than ever before. "We are switching it up a bit this year," said Stacie Schroeder, development director for Big Brothers Big Sisters of Douglas County.
Each December, Douglas County Toys for Tots secures a storefront in Lawrence and sets up shop — a toy shop, that is. Joyful music fills the air. Dolls, action figures, puzzles, board games and stuffed animals abound.