People
If life's a stage and we merely players, Kansas University certainly has an amazing cast of characters. Learn about a few campus superstars as well as a few newcomers.
Positive reinforcement — it's not a new concept, but in the ultracompetitive, at times overly masculine, world of sports, it's often sorely underutilized. Some coaches degrade players, reward results over effort and pit teammates against one another. By Giles Bruce
It's been about a year now since Kansas University launched an effort to recruit 12 high-profile researchers from other institutions, and no hires have yet been announced. By Matt Erickson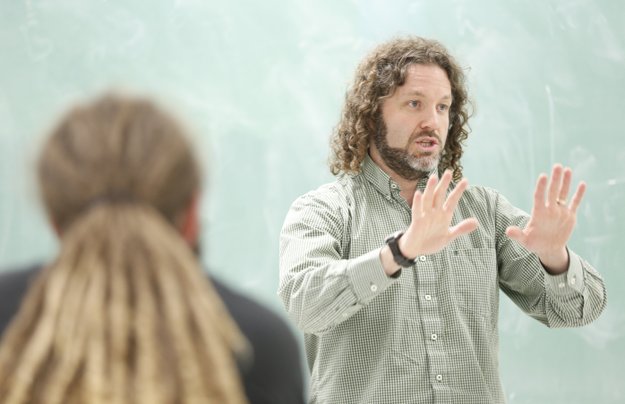 Kansas University assistant professor of astronomy and astrophysics, Gregory Rudnick gives a lecture on Friday, May 3, 2013 in Malott Hall.
Kansas University astronomy professor Gregory Rudnick looks back in time — literally. Using a telescope, he can see millions of years into the past, studying how our universe has evolved in the more than 13 billion years since the Big Bang. And he and fellow scientists are planning to look deeper into space than ever before. By Giles Bruce
Michael Branicky has a big job ahead of him. But that's what drew him away from his hometown of Cleveland, where he'd spent most of his life, to take charge of Kansas University's School of Engineering. By Matt Erickson