Forming bonds
Lawrence has a host of mentoring programs from advocating for children in the court system to working with inmates about to be released from prison. All volunteers need is time and the desire to help others reach their potential.
Help on the outside
For those about to be released from prison with no where to go, the Lansing Correctional Facility has set up a mentoring program to give support on the outside. In the case of former inmate Robert Bigelow and volunteer J.D. Evans, the program has helped both on the road to recovery.
A 'miracle' outcome
CASA volunteer Marty Smith met Shane Lewis four years ago as he was about to enter the court system for the first time. She was the only constant presence in the eight-year-old's life as he moved from the custody of his mother to foster care homes. Eventually, his mother Robin Lewis relinquished her rights. But a year and half later, she made a commitment to stay clean. In June, Smith had a very happy ending to the case when Lewis officially adopted him.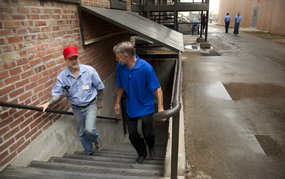 Inmate Robert Bigelow, left, walks out onto a thoroughfare between prison buildings with mentor J.D. Evans, Lawrence, at the Lansing Correctional Facility. Bigelow, who was recently released from the correctional facility, received regular visits from Evans in preparation for his release.
After spending nearly 30 years of his life in prison, Robert Bigelow was looking at time on the other side — freedom.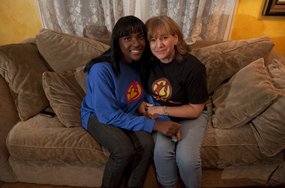 De'Ja McGee, 13, and Toni Pennisi spend several hours each week with each other after they were matched two years ago through Big Brothers Big Sisters of Douglas County.