From 801 to 1500
1957-1993
Kansas remained a national power for much of the late 20th century, as coaches such as Larry Brown and Ted Owens posted stellar won-loss records. The team hit the 1,500-victory mark in a 1993 victory led by guard Rex Walters.
Freedom Hall's rims are safe. Rex Walters and Adonis Jordan didn't stick them in their suitcases…as much as they would have liked to. "We really like the rims here," Walters said after he and his Kansas backcourt teammate put on a long-range shooting clinic in the Jayhawks' 98-77 victory over Louisville on Saturday night.
Williams breathes easy after Jayhawks romp past Colorado, 111-83
The losing streak — Kansas' eight-game, month-long basketball bummer — is history.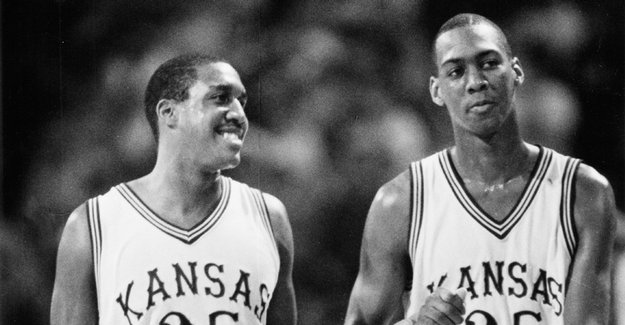 Kansas University basketball teammates Calvin Thompson (#35) and Danny Manning (#25) congratulate each other in this 1985 file photo. Thompson and Manning were part of a 1985-1986 squad that earned the program's 1,300th victory by defeating SIU-Edwardsville in December.
KU

guard Tony Guy talks about No. 1,200
KU

guard Steve Woodberry discusses No. 1,500
Ron Kellogg was looking forward to a long, hot, post-game shower.