From 1501 to 2000
1993-present
The 1990s and 2000s were periods of continued success under coaches Roy Williams and Bill Self. From the great individual players of the 1990s to the Jayhawks' 2008 NCAA Championship, the period contained some of KU basketball's greatest moments.
Jayhawks celebrate title win
Bill Self snipped the last four strands of net and forcibly tore the twine from the rim, putting the finishing touches on a joyous celebration Saturday afternoon in Allen Fieldhouse.
Jayhawks clip 'Cats, return to Final Four
Kirk Hinrich sat alone on Kansas University's bench, his head in his hands as his teammates practiced before Saturday's NCAA West Regional Final at Arrowhead Pond.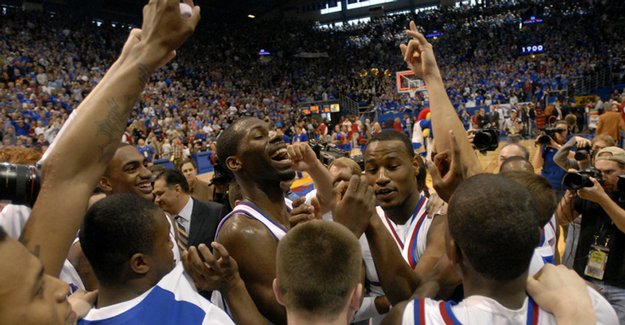 The Jayhawks huddle in celebration following their 90-86 comeback win over Texas securing sole possession of the conference championship Saturday at Allen Fieldhouse.
'

Hawks nab No. 1,900

No. 1900: Video highlights of KU vs. Texas
2006-07 March 3
KU

-Texas Hoops