Tick numbers creep up
It's the year of the tick
Kansas University professor Greg Burg says he's seen more ticks this year than in the past two years.
They're ticking people off
More ticks are out and about in Lawrence, according to Greg Burg, Kansas University professor of medical and veterinary entomology and insect ecology. Burg studies ticks, both dead and alive, in his lab at Haworth Hall. He said people will see more ticks this season than in the past two years because the wet, snowy weather earlier this year provided favorable overwintering conditions, creating insulation on the ground that prevented as many of the critters from dying off.
Ticks are more prevalent this year than in other recent years. Here's a guide for avoiding and dealing with the critters.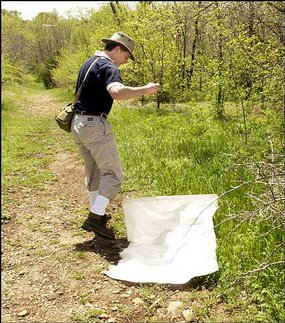 In this April 25, 2002, file photo, Greg Burg, an entomologist at Kansas University, gathers ticks in Dad Perry Park. Burg frequents the park, where he systematically drags a corduroy cloth behind him to collect the ticks. Burg flips the cloth over periodically to count the ticks and gather specimens. He hopes his research will determine how the environment affects the tick population.
Where the wild things are
A trip to Dad Perry Park doesn't yield the numbers that Prof. Greg Burg finds on his expeditions there, but there still are quite a few ticks roaming around.