Peter Hancock (Statehouse/politics reporter)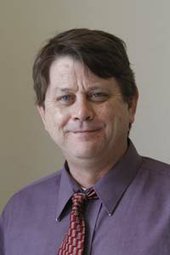 I cover K-12 education. That includes Lawrence USD 497 as well as state policy issues from the legislature and State Board of Education. I am a graduate of the Kansas University with bachelor's degrees in political science and education. Before joining the Journal-World, I published an online news service called the Kansas Education Policy Report. I also spent nine years as the statehouse reporter for Kansas Public Radio and worked a couple of years as the spokesman for the (former) Kansas Health Policy Authority. You can follow me on Twitter (@pqhancock) or join our conversation about public schools on the First Bell blog.
Recent stories
January 23, 2015
Attorney General Derek Schmidt says the three-judge panel handling the school finance lawsuit didn't explain what facts it relied on in its ruling that said current funding for schools is unconstitutional. He is asking the panel to revise its Dec. 30 opinion, which will delay any review by the Kansas Supreme Court. By Peter Hancock
09:59 a.m., January 23, 2015 Updated 10:23 p.m.
Democratic leaders in the Kansas House and Senate said Friday that Gov. Sam Brownback's tax and spending plans for the next two years would hurt public schools and working families. But they offered no alternative of their own, saying only that they want to be "part of the discussion" as the 2015 legislative session progresses.
January 22, 2015
Before his speech on the Kansas University campus Thursday, President Barack Obama paid a visit to a local Head Start preschool, drawing attention to his proposals to expand access to child care and early childhood education for working-class families. By Peter Hancock
January 22, 2015
President Barack Obama used Kansas University as a stage to campaign for budget proposals that he says are aimed at lifting the middle class. More than 7,000 people cheered as Obama called for expanding access to early childhood education and higher education, and economic development measures aimed at raising wages for American workers. By Peter Hancock
January 21, 2015
President Barack Obama arrived in Lawrence on Wednesday night in advance of a speech he will deliver on the Kansas University campus Thursday.
03:53 p.m., January 21, 2015 Updated 10:26 p.m.
Support for the idea of having the state take over enforcement of the Occupational Safety and Health Act lost more steam in a Senate committee when members learned it could not be used as a way to scale back workplace health and safety rules. But the idea may still be alive in the Kansas House. By Peter Hancock
09:39 p.m., January 20, 2015 Updated 10:25 p.m.
President Barack Obama laid out several proposals Tuesday night to make higher education more affordable to lower and middle-income families. He will be in Lawrence on Thursday to drum up public support for those ideas during an 11:20 a.m. speech at Anschutz Sports Pavilion on the Kansas University campus. By Peter Hancock
06:37 p.m., January 20, 2015 Updated 10:24 p.m.
Four days after Gov. Sam Brownback unveiled his budget plan for the next two years, Democratic leaders in the Kansas Legislature still have not issued a formal response. But some rank-and-file members, as well as some Republicans, say parts of the plan could be a tough sell this year. By Peter Hancock
05:46 p.m., January 20, 2015 Updated 10:24 p.m.
The Obama administration is proposing new clean air regulations to reduce carbon emissions from power plants. But state utility regulators told a legislative committee Tuesday that the result could be huge rate increases for consumers, prompting some lawmakers to consider challenging the proposed new rules in court. By Peter Hancock
01:56 p.m., January 19, 2015 Updated 11:01 p.m.
Recent photos

Find more businesses on Marketplace
Arts & Entertainment · Bars · Theatres · Restaurants · Coffeehouses · Libraries · Antiques · Services