Peter Hancock (Statehouse/politics reporter)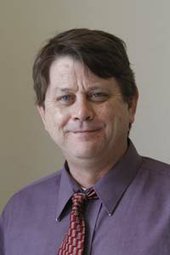 I cover K-12 education. That includes Lawrence USD 497 as well as state policy issues from the legislature and State Board of Education. I am a graduate of the Kansas University with bachelor's degrees in political science and education. Before joining the Journal-World, I published an online news service called the Kansas Education Policy Report. I also spent nine years as the statehouse reporter for Kansas Public Radio and worked a couple of years as the spokesman for the (former) Kansas Health Policy Authority. You can follow me on Twitter (@pqhancock) or join our conversation about public schools on the First Bell blog.
Recent stories
March 2, 2015
All four U.S. House members from Kansas supported a bill Friday that kept the U.S. Department of Homeland Security open for another week, but both of the state's U.S. senators opposed it. The battle between Republican-controlled Congress and Democratic President Barack Obama centers on the president's executive orders on immigration policy. By Peter Hancock
March 1, 2015
There was plenty of conservative legislation in the first half of the 2015 session, on issues dealing with gun rights, abortion and sex education. But in the final days before the "turnaround" deadline, moderates began showing strength on issues including teacher contract negotiations, municipal elections and even the possibility of Medicaid expansion. By Peter Hancock
01:26 p.m., February 27, 2015 Updated 10:40 p.m.
A Lawrence attorney was placed on three years of disciplinary probation Friday for making derogatory comments to a prosecutor during a DUI trial in 2013, then making false statements during his disciplinary proceeding. By Peter Hancock
05:31 p.m., February 26, 2015 Updated 10:57 p.m.
The Kansas Senate narrowly passed a bill Thursday that would move municipal and school board elections to November of odd-numbered years, and those elections would remain nonpartisan.
11:26 a.m., February 26, 2015 Updated 11:01 p.m.
The Kansas House and Senate passed nearly identical bills Thursday dealing with contract negotiations between school districts and teachers unions.
06:02 p.m., February 25, 2015 Updated 10:16 p.m.
A Democratic lawmaker says Gov. Sam Brownback may have violated state law by cutting more than $50 million over the next two years from the budget request of the Kansas judiciary. Rep. John Carmichael, of Wichita, is asking Attorney General Derek Schmidt for a formal legal opinion. By Peter Hancock
04:46 p.m., February 25, 2015 Updated 10:17 p.m.
The Kansas House rejected a bill Wednesday that would have eliminated the exclusive right of teachers unions to negotiate contracts with school districts. Instead, it advanced a bill reflecting a compromise worked out between the state's major education groups over what issues should be negotiated between teachers and school districts. By Peter Hancock
11:22 a.m., February 25, 2015 Updated 10:14 p.m.
House Bill 2104 is a response to the controversy last year when Democrat Chad Taylor withdrew from the U.S. Senate race against Republican Pat Roberts. It would prohibit candidates withdrawing from a race after June 1 of the election year unless the candidate dies. It would also require parties to replace candidates on the ballot if there is a vacancy. By Peter Hancock
February 24, 2015
State Medicaid officials would have more ability to control the prescription of mental health drugs under a bill scheduled for final action Wednesday. Mental health advocates strongly oppose the bill, but supporters say it will protect patients and save money for the state. By Peter Hancock
06:58 p.m., February 24, 2015 Updated 10:19 p.m.
Recent photos

Find more businesses on Marketplace
Arts & Entertainment · Bars · Theatres · Restaurants · Coffeehouses · Libraries · Antiques · Services