Elliot Hughes (Night reporter)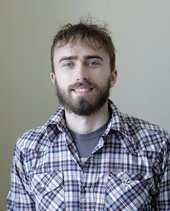 Elliot Hughes is a general assignment reporter for the Lawrence Journal-World.
Recent stories
May 22, 2015
While many of the audience members that Jack Powell addressed Friday were not done being students, the Bishop Seabury Academy graduate told his classmates to be more than that: "Go out there and teach something."
09:21 p.m., May 20, 2015 Updated 10:47 p.m.
Graduation time usually means that graduates and everyone around them are thinking about what's coming next. But the speakers at Wednesday's commencement ceremony for Free State High School wanted to de-emphasize the plan-making. By Elliot Hughes
09:05 p.m., May 19, 2015 Updated 10:40 p.m.
With many umbrellas sprouting from the bleachers, it was something of a surprise that hardly any of the Lawrence High students on the football field unfolded any of their own. Perhaps the flat-topped caps signifying their graduation shielded them from the rain well enough.
May 17, 2015
Pharmaceutical scientist Michael Windheuser had some humble advice for Veritas Christian School's class of 2015 Sunday. He encouraged the graduating seniors to read in their free time, learn a new language, travel as much as possible and always make their bed in the morning.
12:00 a.m., May 16, 2015 Updated 10:18 p.m.
If something interests Kenneth Palmer, he's not just going to happily do the requisite work and call it a day. Andrea York, a former teacher of his at Free State High School, remembers a time when her U.S. history course had finished without the class having read the whole textbook. Kenneth held on to it to finish.
03:05 p.m., May 15, 2015 Updated 10:09 p.m.
Douglas County officials will hold their next town hall meeting about a potential jail expansion and mental health crisis intervention center projects at 6 p.m. June 29 at the Douglas County Courthouse, 1000 Massachusetts St.
06:48 p.m., May 14, 2015 Updated 10:57 p.m.
Have you ever heard of a high school freshman mummifying some store-bought chicken? Neither had one of the best archaeology schools in the world. When the time comes for high school students to write their college essays, many wonder how they can stand out. Kennedy Dold, a soon-to-be graduate of Lawrence High School, and her parents described the time she rounded up some peat to give the old "bog body" style of mummification a try.
04:37 p.m., May 14, 2015 Updated 10:17 p.m.
The Lawrence-Douglas County Health Department announced that it received national accreditation from the Public Health Accreditation Board Thursday.
01:23 p.m., May 14, 2015 Updated 10:45 p.m.
Loring Henderson, who is acting as an administrator for Ecumenical Campus Ministries, confirmed the organization has lost and is attempting to regain its nonprofit status.
06:41 p.m., May 13, 2015 Updated 10:47 p.m.
Recent photos