Benton Smith (KUsports.com reporter)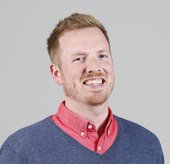 Benton Smith was born in Kansas City, Mo., and bounced around in the years that followed, living in Pennsylvania, Iowa and North Carolina, before moving to Lawrence in 2006. Along the way, he lived in Sanford, N.C., for a huge chunk of his life and graduated in 2002 from the University of North Carolina at Chapel Hill — an institution, he assures die-hard Kansas fans, which he attended primarily for its in-state tuition and journalism program. Shortly after moving to Lawrence, Smith began working part-time at the Journal-World, initially covering youth sports. Next, he covered Free State High athletics and area sports for the J-W, before taking on the position of sports editor for one of The World Company's weekly newspapers, The Mirror, in Tonganoxie. He worked there from 2008 to 2011, until returning to the Journal-World to lead its high school sports coverage. In 2013, Smith took on a new role with KUsports.com, as a digital editor, blogger and writer.
Recent stories
By Benton Smith
March 4, 2015
As early as pre-game warmups Wednesday night, Free State High senior Weston Hack sensed something amiss for the black-clad visitors at Shawnee Mission North, site of the Firebirds' Class 6A sub-state opener.
By Benton Smith
February 25, 2015
With her team trailing on the road in the fourth quarter Tuesday night, Free State High sophomore guard Madison Piper had seen her previous seven shots rim out. She hadn't made a basket since the final minutes of the second quarter. But none of that mattered in crunch time.
By Benton Smith
February 25, 2015
Sometimes scoring is contagious. One guy on a basketball team gets hot, and the others follow suit. Free State High experienced a little of that Tuesday night at Shawnee Mission West. But the Firebirds' passing turned out just as infectious, as crisp ball movement and open shots helped FSHS coast to a 55-40 victory.
By Benton Smith
February 21, 2015
When Olathe North, the No. 4-ranked team in Class 6A, began pounding the ball inside with 6-foot-4 junior R.J. Smith and 6-foot-5 senior Josh Moore right off the bat Friday night, No. 2 Lawrence High needed a counter-attack. By Benton Smith
By Benton Smith
February 21, 2015
Winless in the Sunflower League entering this week, Lawrence High's girls basketball team now has back-to-back road victories in the league following the Lions' 52-43 Friday night triumph at Olathe North.
By Benton Smith
February 19, 2015
No, February doesn't really qualify as football season. But new Kansas University football coach David Beaty and his staff certainly don't care. They already have made stops in Hays, Hutchinson and Topeka this month as they tour the Sunflower State for a series of meet-and-greets designed to introduce the new coaches to the KU fan base.
By Benton Smith
February 18, 2015
Lawrence High guards Justin Roberts and Anthony Bonner led Lawrence High's boys to a 70-66 victory over Shawnee Mission North. By Benton Smith
By Benton Smith
February 18, 2015
First-year Lawrence High girls basketball coach Jeff Dickson got everything he could hope for out of his Lions on Tuesday night at Shawnee Mission North, and with his downtrodden team firing on all cylinders, the Lions beat a Sunflower League team for the first time in nine tries this season. By Benton Smith
By Benton Smith
February 17, 2015
By Benton Smith
09:12 p.m., February 14, 2015 Updated 10:52 p.m.
Recent photos

Find more businesses on Marketplace
Arts & Entertainment · Bars · Theatres · Restaurants · Coffeehouses · Libraries · Antiques · Services