It wasn't the forecast of rain that affected the 60th annual Maple Leaf Festival but breezy early morning conditions, an event organizer said early Saturday afternoon.
A Douglas County fall tradition makes its return. The 60th annual Maple Leaf Festival in Baldwin City gets started in earnest Saturday.

South Coffeyville, Okla., School Superintendent Clemo Haddox will bring the results of his calming therapy to the Maple Leaf Festival.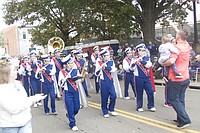 The Wellsville High School marching band performs Saturday during the Maple Leaf Festival Parade.
[]
Create search alert for ""maple leaf festival""