715
715 Mass., Lawrence, 66044
Accommodations
Wheelchair accessibility: 1
Business hours
Sundays: 9 a.m. to 11:59 p.m.
Mondays: 11 a.m. to 11:59 p.m.
Tuesdays: 11 a.m. to 11:59 p.m.
Wednesdays: 11 a.m. to 11:59 p.m.
Thursdays: 11 a.m. to 11:59 p.m.
Fridays: 11 a.m. to 11:59 p.m.
Saturdays: 9 a.m. to 11:59 p.m.
Kitchen hours
The kitchen is always open during business hours.
Drink specials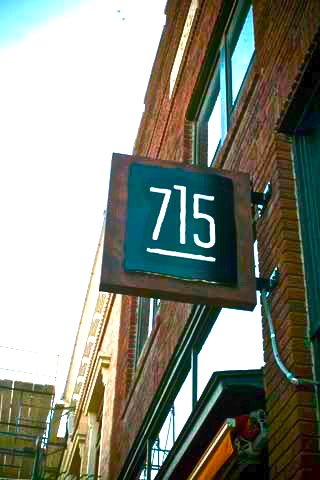 Place details
Restaurant details
Cuisine: Italian, Pizza, Sandwiches/Subs, Seafood, Steak
Price range $10 - $20
Delivery: No
Buffet: No
Local establishment: Yes
Outdoor seating: No
Party room: Yes
Reservations accepted: Yes
Call-aheads accepted: Unknown
Kids menu: Yes
Occasional live music: No
Number of vegetarian dishes: 10
Payment options: Visa, Mastercard, Discover, American Express, No checks accepted
Description
New in Oct. 2009, this restaurant features local ingredient with local food, with a dose of Italian influences. It has a casual vibe with hip decor that enhances the building's century-old architecture.
Full service lunch and dinner. Pizzas are served 'til midnight everyday and are just $7 after 10pm. Brunch runs from 9a-3p on both Saturday and Sunday.