---
They say 13 people died and another 150 were injured that Friday in a small town east of Wichita, just off the interstate, a place few folks outside the area had ever bothered paying much attention to before.
From snow to rain, lightning, and even clear skies, Kansas weather puts on a good show. Submit your photos and see what others have sent in.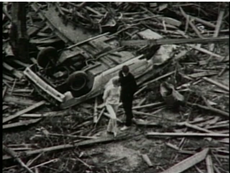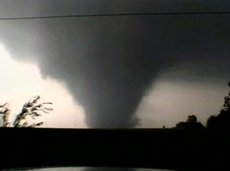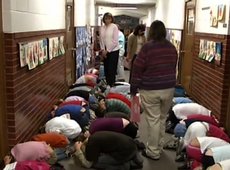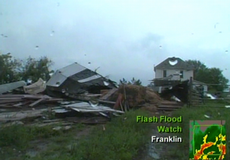 Photo Gallery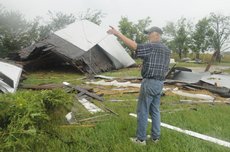 Sept. 12, 2008 Douglas County tornados
Photo Gallery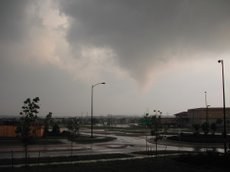 2003 tornado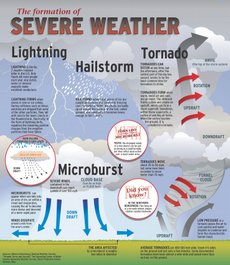 Top stories
By Mark Fagan,

March 11, 2009
More Severe Weather
Staff Reports
September 9, 2014
Severe weather is expected in the region tonight, with a possibility that it could reach Lawrence, the National Weather Service is reporting.
09:40 p.m., August 31, 2014 Updated 09:51 p.m.
August 31, 2014
The National Weather Service in Topeka has issued a severe thunderstorm watch for Douglas County until 1 a.m. Monday.
Associated Press
June 4, 2014
A pair of tornadoes damaged several homes and blew dozens of empty coal cars from railroad tracks in far northeast Kansas, but nobody was killed in the late-night storms, the National Weather Service said. The first tornado was an EF-3 carrying winds up to 140 mph Tuesday in Nemaha and Brown counties, said Chad Omitt, warning coordination meteorologist with the weather service office in Topeka. The twister struck south of the tiny town of Bern, with a population of just over 150, and north of Oneida, a community of 75 residents nine miles away, Omitt said.
Associated Press
June 2, 2014
It has been a fairly quiet tornado season so far this spring but that could change on Tuesday in five Midwestern states, where the National Weather Service predicts a heightened risk of severe storms that could produce strong twisters.
Associated Press
May 20, 2014
A weak jet stream and prevailing weather patterns suggest that this tornado season may remain quiet, forecasters said.
Staff Reports
May 8, 2014
The National Weather Service has issued a severe thunderstorm watch for Douglas and area counties until 10 p.m. Thursday evening.
Associated Press
April 28, 2014
An aide to Kansas Gov. Sam Brownback says he and Congresswoman Lynn Jenkins will visit Baxter Springs to view tornado damage in the southeast Kansas town.
Staff Reports
April 13, 2014
Douglas County is included in a severe thunderstorm watch that the National Weather Service issued for much of eastern Kansas.
Staff Reports
April 12, 2014
The National Weather Service issued a severe thunderstorm watch for Jefferson County and a hazardous weather outlook for Douglas and Franklin counties Saturday night into Sunday.
Staff Reports
01:09 p.m., March 27, 2014 Updated 03:19 p.m.
The National Weather Service's Storm Prediction Center has issued a tornado watch for East Central Kansas, including Douglas County, that will remain in effect until 8 p.m.
The Associated Press
March 9, 2014
Weather officials in Kansas will be watching major thunderstorms this year for a clue about wind speeds that may help indicate the path of potential tornadoes.
March 8, 2014
If many people ever truly believed in the Tonganoxie Split, it's a good bet that number dropped on May 11, 2000. That's when — instead of being waylaid by any natural terrain or old Indian curses — a tornado twisted through the little Leavenworth County town, causing $2.1 million in damage to more than 200 homes. Anymore, the Split is generally accepted as folklore instead of a weather phenomenon. By Sara Shepherd
Staff Reports
March 3, 2014
Staff Reports
05:24 p.m., February 28, 2014 Updated 03:12 p.m.
Prev Next