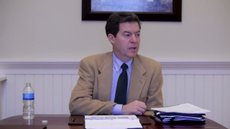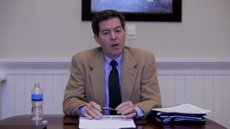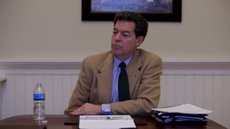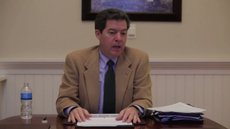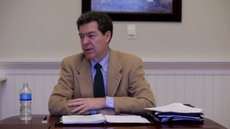 Photo Gallery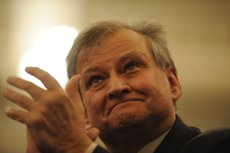 State of the State address: Sam Brownback
Photo Gallery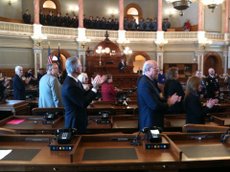 Governor Sam Brownback's inauguration
Photos from Kansas Gov. Sam Brownback's inauguration on Monday, Jan. 10, 2011.
08:39 a.m., April 23, 2015 Updated 10:45 p.m.
Gov. Sam Brownback's administration unveiled a package of modest budget adjustments on Thursday but did not offer a comprehensive plan for filling an estimated $400 million revenue shortfall in next year's budget. By Peter Hancock
Associated Press
April 20, 2015
Gov. Sam Brownback must decide whether to sign a bill that ride-hailing company Uber has said would drive it out of the state if it becomes law.
Associated Press
April 17, 2015
Republican Gov. Sam Brownback has signed a bill authorizing $1 billion in bonds to bolster Kansas' pension system for teachers and government workers.
John Hanna, Associated Press
09:55 a.m., April 16, 2015 Updated 01:27 p.m.
A new Kansas law tells poor families that they can't use cash assistance from the state to attend concerts, get tattoos, see a psychic or buy lingerie. The list of don'ts runs to several dozen items. More than 20 other states have such lists. But the one included by the Republican-dominated Kansas Legislature in a bill signed Thursday by GOP Gov. Sam Brownback appears to be the most exhaustive, according to state Department for Children and Families officials.
Associated Press
11:43 a.m., April 7, 2015 Updated 10:21 p.m.
Kansas became the first state Tuesday to ban a common second-trimester abortion procedure that critics describe as dismembering a fetus.
Associated Press
08:46 a.m., April 2, 2015 Updated 03:30 p.m.
Kansas will become the fifth state to allow its residents to carry concealed firearms without a permit throughout the state.
01:31 p.m., March 26, 2015 Updated 10:52 p.m.
Plaintiffs in an ongoing school finance case asked a three-judge panel in Topeka on Thursday to block implementation of a new school funding plan that Gov. Sam Brownback signed into law Wednesday. By Peter Hancock
08:38 a.m., March 12, 2015 Updated 10:56 p.m.
After several days of intense arm-twisting, Republican leaders in the Kansas House mustered enough votes Thursday to advance a bill that makes sweeping changes to the way the state funds its public schools. The Lawrence school district stands to lose about $1.6 million in state funding under the plan. A final vote is expected Friday. By Peter Hancock
Associated Press
08:45 a.m., March 11, 2015 Updated 10:43 p.m.
After tough questioning at the committee stage, Kansas Gov. Sam Brownback's appointee to the Court of Appeals faces her final confirmation vote before the Senate Wednesday.
John Hanna, Associated Press
March 9, 2015
Top Republican legislators in Kansas are hearing plenty of criticism of their proposal to overhaul how the state distributes aid to public schools, and they're likely to keep hearing it this week.
Associated Press
08:10 a.m., March 6, 2015 Updated 10:41 p.m.
A lobbyist who used to work as Gov. Sam Brownback's chief of staff is defending his confrontation with a Topeka teacher he claims was unprofessional in referencing the governor in her speech at a Model UN competition.
Associated Press
08:57 a.m., March 5, 2015 Updated 10:27 p.m.
06:26 p.m., March 4, 2015 Updated 10:41 p.m.
Gov. Sam Brownback suggested Wednesday that he may be open to the possibility of expanding Medicaid under the Affordable Care Act, although he still has strong reservations. His comments to a group of insurance agents came as the Kansas House is preparing to hold hearings on at least two Medicaid expansion proposals. By Peter Hancock
Associated Press
04:29 p.m., March 4, 2015 Updated 10:46 p.m.
Kansas Gov. Sam Brownback touted his income tax policies Wednesday during a visit to Missouri's capital city, telling Republican legislators and business groups there that "the seeds of growth" are starting to sprout in his state despite a projected budget shortfall approaching $600 million.
Associated Press
08:45 a.m., March 4, 2015 Updated 10:33 p.m.
Prev Next

Find more businesses on Marketplace
Arts & Entertainment · Bars · Theatres · Restaurants · Coffeehouses · Libraries · Antiques · Services