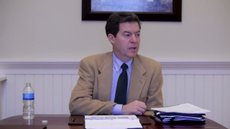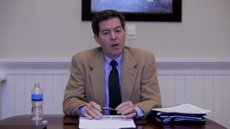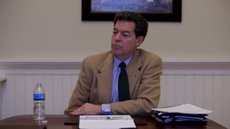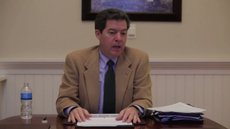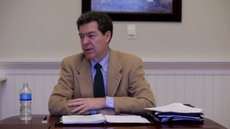 Photo Gallery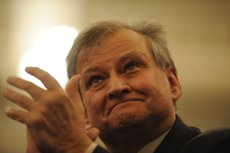 State of the State address: Sam Brownback
Photo Gallery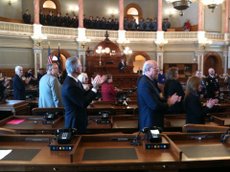 Governor Sam Brownback's inauguration
Photos from Kansas Gov. Sam Brownback's inauguration on Monday, Jan. 10, 2011.
John Hanna, Associated Press
January 25, 2015
Gov. Sam Brownback is proposing that Kansas backpedal on a much-ballyhooed increase in spending on public schools, just as he is asking fellow Republicans in the Legislature to slow down aggressive tax-cutting because of big budget shortfalls.
January 24, 2015
In the town named the most hungover city in America this month by Business Insider, Gov. Sam Brownback's new tax proposition, which would raise taxes on alcohol and tobacco products to balance the state budget, would have little effect on vices, but a big impact on pocketbooks, some Lawrencians said. To aid against the projected budget shortfalls of more than $710 million in the current budget and in the next fiscal year, Brownback suggested increasing the cigarette and tobacco product tax trifold and the alcohol tax by 50 percent. Under his plan, the state would raise $394 million over a period of two years, the Associated Press reported earlier this month.
Associated Press
08:00 a.m., January 16, 2015 Updated 09:50 a.m.
Kansas would nearly triple its cigarette tax, raise taxes on alcohol and slow down promised income tax cuts to balance its budget under proposals Republican Gov. Sam Brownback outlined Friday.
Sam Brownback, courtesy of the Office of the Governor
January 15, 2015
Associated Press
January 15, 2015
Kansas Gov. Sam Brownback is preparing to outline his agenda for lawmakers' 90-day session in his annual State of the State speech and is expected to address a strategy for closing the state's looming budget shortfalls.
Sam Brownback, courtesy of the Office of the Governor
11:00 a.m., January 12, 2015 Updated 10:09 p.m.
11:00 a.m., January 12, 2015 Updated 10:09 p.m.
Gov. Sam Brownback used his second inaugural address Monday to focus on social and religious issues, declaring that America suffers from a "crisis of the family." By Peter Hancock
Associated Press
03:01 p.m., January 8, 2015 Updated 10:46 p.m.
A federal grand jury is looking into loans made to Kansas Gov. Sam Brownback's re-election campaign and has ordered the state's ethics chief to testify next week as part of its investigation, according to a subpoena obtained by The Associated Press .
Associated Press
January 3, 2015
Festivities leading up to Kansas Gov. Sam Brownback's swearing-in for a second term should have a familiar, restrain-the-glitz feel.
Associated Press
02:21 p.m., December 19, 2014 Updated 02:53 p.m.
Gov. Sam Brownback's budget director told a legislative committee Friday that the proposed cuts in contributions to the state's pension system are only temporary and will not be part of Brownback's budget proposal for the next two fiscal years.
Associated Press
01:14 p.m., December 17, 2014 Updated 05:28 p.m.
The Kansas governor's office insists that the public doesn't have the right to know who it's considering to fill two new positions on the Saline County Commission.
Associated Press
December 15, 2014
Kansas can avoid litigation if the governor's office follows the state's open records laws and releases the name of candidates seeking one of two new seats on the Saline County Commission, a newspaper publisher said this week.
Associated Press
01:25 p.m., December 10, 2014 Updated 03:37 p.m.
Gov. Sam Brownback is working on proposals for changing how Kansas distributes aid to public schools and for bolstering the pension system for teachers and government workers, but wouldn't discuss the details in an interview Wednesday.
Associated Press
December 8, 2014
Gov. Sam Brownback says he's working on filling a vacancy on the Kansas Court of Appeals created when one of its judges was appointed to the state Supreme Court.
Associated Press
November 28, 2014
State officials say Kansas' tax collections were $3.1 million more than estimated in November after recent shortfalls. The Kansas Department of Revenue said Wednesday that tax collections totaled more than $409 million this month, while about $406 million was estimated, The Topeka Capital-Journal reported (http://bit.ly/11y7rDv ).
Prev Next