Welcome to our ongoing project, LJWorld.com/Green. In this section, we'll be introducing you to people who live a green life. We'll be sharing anecdotes about how our journalists are making their lives more "green" and we'll be giving you tools to help make your own life "green."
---
KU

researchers seeing green in alternative biofuel project
By Mark Fagan
November 9, 2009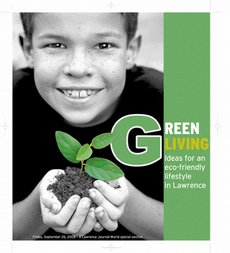 Top stories
More Green
Staff Reports
April 15, 2014
Crowds stroll down Massachusetts Street in celebration every year, some people playing instruments made from recyclables, others dressed in tie dye or sporting costumes as vegetables or animals. It's almost time again for one of Lawrence's big events, the annual Earth Day Parade & Celebration.
October 28, 2013
Lawrence-based Pines International Inc. — aka "The Wheat Grass People" — exports USDA-certified organic cereal grass supplements to about 25 countries, and there are bright green Pines labels in Vitamin Shoppes, Whole Foods Markets and other stores in almost every U.S. state. Pines recently added outposts in other states and overhauled its Lawrence equipment to the tune of $4 million. By Sara Shepherd
October 24, 2013
October 12, 2013
On Saturday, the city became the third stop of the publication's national two-day event as scores of vendors lined Watson Park and lectures ranged anywhere from salvaging the human habitat to producing a cheese of one's own. The fair concludes Sunday with a 9 a.m. to 6 p.m. slate that includes a talk with the actor Ed Begley Jr. By Stephen Montemayor
July 29, 2013
Bosco, according to his owner Barbara Clark, is "somewhat of a contrary sheep." Yet his thick, fluffy coat can be turned into things as soft and sweet as anyone could imagine — like the whimsical charcoal-gray stuffed bunny rabbit Lawrence resident Marianne Wille is pulling from her knitting bag. Joining the Maggie's Farm CSA doesn't get you vegetables from a farmer you know — it gets you wool from sheep you can meet. By Sara Shepherd
Home garden, one of 18 on tour, features curb-to-curb produce, chickens
June 5, 2013
For an easy summertime dinner at home, Bob Gent loves a good stir fry. He'll toss together potatoes, eggplant, okra and tomato, and maybe a little meat to make a full and savory meal. Such a dinner is especially easy for Gent — everything he needs is growing just steps from his kitchen door.
April 20, 2013
Earth Day isn't until April 22, but the City of Lawrence observed the eco-friendly holiday early with an Earth Day Parade and Celebration Saturday. The celebrations, hosted by the Waste Reduction and Recycling department, were scheduled early because Earth Day fell on a weekday, and the city wanted to be sure city residents could attend. By Meagan Thomas
January 7, 2013
Upcycling — not only is it all over websites such as Etsy and Pinterest, it's an increasingly popular trend in Lawrence. Between downtown shops and individual artisans, creative types are breathing new life into old objects and finding success selling them online and in stores. By Sara Shepherd.
September 22, 2012
10:59 p.m., September 20, 2012 Updated 09:29 a.m.
Lawrence residents on Saturday can get information about energy efficiency and sustainability for homes and cars.
Raelean Finch
September 15, 2012
The Lawrence Parks and Recreation Department has trucked more than 1 million gallons of potable water to saplings, grass and flowers in medians, roundabouts and the like throughout the city this summer.
By Chad Lawhorn
August 29, 2012
West Lawrence motorists will get a new option for gasoline purchases on Thursday, and they may get a glimpse at the future of how convenience stores are built too.
By Adam Strunk
August 14, 2012
The city of Lawrence will host the Lawrence Energy Conservation Fair from 10 a.m. to 4 p.m. Sept. 22 at Holcom Park Recreation Center at 2700 W. 27th Street. Local builders, architects, government agencies and others will present exhibits showing how to lower utility bills or increase energy efficiency.
By Kelly Barth
July 2, 2012
June 8, 2012
Green Wish, a Los-Angeles-based environmental group, is launching a Kansas chapter with a free event at 7 p.m. June 21 at the Oread Hotel, 1200 Oread Ave. The group will raise environmental activism awareness and funds for environmental groups in Lawrence and Kansas City, said Victoria Bogner, president of the Kansas Green Wish board of directors.
Prev Next

Find more businesses on Marketplace
Arts & Entertainment · Bars · Theatres · Restaurants · Coffeehouses · Libraries · Antiques · Services