Kansas University Chancellor Robert Hemenway announced Dec. 8, 2008, that he would retire from KU June 30, 2009. He will be remembered for his efforts to strengthen KU Hospital and KU Medical Center — including separating the hospital from direct state oversight — and setting a goal to achieve designation as a National Cancer Institute. His tenure will also be remembered for the increasing stature of Kansas Athletics. He was replaced by Bernadette Gray-Little, the first African-American and the first woman to be KU's chancellor.
---
Biographical Information
Full name: Robert Emery Hemenway
Born: Aug. 10, 1941
Age: 67
Family: Eight children, including two with his wife, Leah, and seven grandchildren.
Education: Hastings (Neb.) High School, 1959; University of Nebraska at Omaha, bachelor's degree in English, 1963; Kent State University, doctorate in English, 1966.
Academic Experience: 1966-68, assistant professor of English, University of Kentucky; 1968-73, assistant and associate professor of American studies, University of Wyoming; 1973-81 associate professor and professor of English, University of Kentucky; 1981-86, chair, department of English, University of Kentucky; 1986-89, dean of Arts and Sciences, University of Oklahoma; 1989-95, chancellor, University of Kentucky, Lexington Campus; 1995-present, chancellor, Kansas University.
Books Published: "Zora Neale Hurston: A Literary Biography," 1977. Contributed to several others, both as an editor and by writing forewords, chapters and introductions.
Salary as Chancellor: Three months ago, the Regents gave Hemenway a 2.5 percent pay raise, taking his potential salary compensation to $340,352. Of Hemenway's compensation, $267,177 is provided by state funds. The remaining $73,175 represents the maximum he can receive from the KU Endowment Association. When he was hired in 1995, Hemenway was paid a base salary of $160,000 — plus the chancellor's residence, an $18,500 residential spending allowance, a $15,000 expense account and a leased vehicle.
Photo Gallery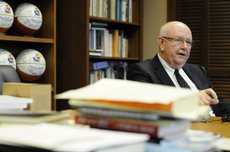 Photos from Chancellor Robert Hemenway's career at KU.
Photo Gallery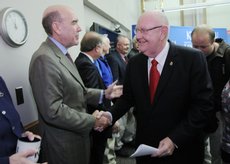 Hemenway announces his retirement
In a press conference Monday, KU Chancellor Robert Hemenway announced he would retire June 30, 2009.
Prev Next
loading...
Blog: A look at Lawrence's high gas prices and an update on plans for a Casey's store

June 22, 2018 · 5 comments

Letter to the editor: Separating families

June 22, 2018 · 20 comments

After wrongly insisting administration had no choice, Trump signs order ending child-parent separation

June 20, 2018 · 35 comments

Letter to the editor: Suicide and guns

June 22, 2018 · 13 comments

Kansas congressman Marshall to visit tent shelters for young immigrants

June 22, 2018 · 6 comments

Letter to the editor: How can we?

June 22, 2018 · 14 comments

Opinion: But her emails? You're dang right her emails

June 20, 2018 · 21 comments

Kobach sought pardon for VP of corporate donor accused of putting gun to cab driver's head

June 20, 2018 · 23 comments

Editorial: Kobach merits severe rebuke

June 20, 2018 · 2 comments