The Election at a Glance
The spring general election is April 2, voting for commissioners, school board members and the school bond issues. For a complete list, click
here
.
For more information, visit Douglas County's
elections website
.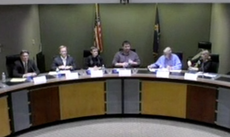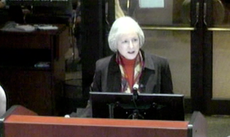 City Commission General Election Candidates
More 2013 City Commissioner election
By Chad Lawhorn
04:06 p.m., April 10, 2015 Updated 10:32 p.m.
If you wonder why voter turnout is so low in many local elections, Michael A. Smith, an associate professor of political science at Emporia State University, suggests you talk to some local politicians.By Chad Lawhorn
By Chad Lawhorn
April 7, 2015
Three new faces are coming onto the Lawrence City Commission, and already there are promises of a new attitude on the way as well. Leslie Soden — an owner of a Lawrence pet-sitting business, and a first-time elected official — won the top spot in Tuesday's general election. Fellow City Hall newcomers Stuart Boley, a retired IRS agent, and Matthew Herbert, a Lawrence High teacher, won the other two spots on the commission. Incumbents Terry Riordan and Bob Schumm lost their re-election bids by more than 1,500 votes. By Chad Lawhorn
April 7, 2015
The Lawrence school district will see two new faces join its governing board this summer — Jessica Beeson and Jill Fincher — while one incumbent, Bob Byers, will make an exit. Three incumbents will return to the board: current president Shannon Kimball, an attorney; Rick Ingram, a professor of psychology at Kansas University; and Marcel Harmon, an applied anthropologist who was elected to a two-year term. All other winners will serve four years.
Kimball, Beeson, Fincher, Ingram win at-large school board spots; Harmon wins unexpired term
Staff Reports
06:36 p.m., April 7, 2015 Updated 09:08 p.m.
Lawrence voters showed up at the polls Tuesday to determine three seats on the Lawrence City Commission and five seats on the USD 497 school board.
By Chad Lawhorn
09:31 p.m., March 31, 2015 Updated 10:19 p.m.
If Lawrence voters want to build a new police headquarters without raising taxes, they may have to live with less spending for parks and recreation and the delay of several major road projects, according to a new plan put together by City Hall leaders. By Chad Lawhorn
By Chad Lawhorn
03:07 p.m., March 31, 2015 Updated 10:08 p.m.
Improving the availability of parking in downtown Lawrence is likely on the to-do list of the next City Commission, but candidates on Tuesday weren't of the same mind on how to get the job done. By Chad Lawhorn
By Chad Lawhorn
09:17 p.m., March 30, 2015 Updated 10:47 p.m.
A Lawrence City Commission candidate forum on health and wellness issues Monday produced a variety of ideas, including a candidate who said he thinks the community could benefit from a lower drinking age. By Chad Lawhorn
By Chad Lawhorn
March 28, 2015
When the current City Commission passed a new rental registration and licensing program last year, it was one of the more sweeping program changes made by the commission in recent memory. Now the question is whether the program will be swept out with a new commission.
By Chad Lawhorn
March 27, 2015
Lawrence City Commission candidate Stan Rasmussen is seeking to assure voters that he's not allowing several thousand dollars of campaign donations from outside of Lawrence and from a politically active conservative activist to influence his campaign. By Chad Lawhorn
By Chad Lawhorn
07:50 p.m., March 25, 2015 Updated 10:11 p.m.
Prev Next

Find more businesses on Marketplace
Arts & Entertainment · Bars · Theatres · Restaurants · Coffeehouses · Libraries · Antiques · Services