Topeka — Hundreds of students from Topeka High School walked out of class Wednesday to protest gun violence in schools and marched to the Kansas Statehouse, where another rally was already underway.
"I just wanted to come and be here and let people hear my voice," said Alexis Brown, a freshman who took part in the march.
The student walkout was part of a nationwide demonstration led by high school students. It came on the one-month anniversary of a mass shooting at Marjory Stoneman Douglas High School in Parkland, Fla., that left 17 people dead and many more injured.
It also came one day before the Kansas Senate will debate a pair of gun-related bills, including one that would prohibit people convicted of misdemeanor domestic violence from owning or possessing firearms.
The students' three-block walk to the Statehouse, though, brought them to the site of another demonstration that was already underway, led by the Kansas chapter of the group Moms Demand Action for Gun Sense in America.
That rally drew around 100 people, including some from Lawrence, who came to demand action on the gun bills.
"Because it's not just husbands and wives that do domestic violence. It's boyfriends and girlfriends. And if you're convicted of domestic violence, you should not be in possession of a gun," said Lawrence resident Sharon Miller, one of the people attending the rally.
One of the speakers at the rally was Jim McHenry, of Topeka, a survivor of a mass shooting at the University of Texas in 1966, when Charles Whitman, armed with rifles and other weapons, killed 14 people and injured 31 others.
"I sense that the tide is finally turning, thanks in no small measure to the eloquent young people who are stepping forward and demanding action, telling those in power that enough is enough," McHenry told the crowd.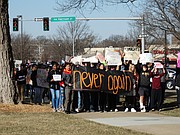 House Bill 2145 passed unanimously out of the House Feb. 2.
But it was amended in a Senate committee, where two provisions not related to the underlying bill were added: one loosening the state's law banning possession of throwing stars and another allowing the use of silencers, if those devices are made and used entirely within the state of Kansas.
"It's very frustrating because it went to committee with a clean bill a couple weeks ago, and a couple of amendments were added to it," Miller said of the bill. "I feel like it dirtied it up to slow it down. (The bill) is to protect the residents in the state of Kansas. I just don't understand it."
The amended bill passed out of the Senate Federal and State Affairs Committee March 6, and it is now awaiting action by the full Senate, along with another bill that would allow people with concealed-carry permits from other states to carry concealed firearms in Kansas.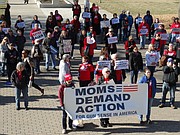 Senate Majority Leader Jim Denning, R-Overland Park, said earlier in the day Wednesday that he intended to bring those bills to the full Senate sometime this session, but he gave no indication about when that might happen.
"You know how it works here," he said in an interview. "When you have something that important, you have to make sure all your ducks are in a row. So we will work those bills before we go home."
Later in the day, however, he announced they would be among the bills debated on the floor of the Senate Thursday.
Copyright 2018 The Lawrence Journal-World. All rights reserved. This material may not be published, broadcast, rewritten or redistributed. We strive to uphold our values for every story published.