For 17 minutes starting at 10 a.m. Wednesday, hundreds of Lawrence students joined countless others across the country in a walkout to honor the 17 victims of last month's Parkland, Fla., shooting and to protest gun violence.
Wednesday marked one month since the shooting at Florida's Marjory Stoneman Douglas High School, a tragedy that has not faded from the minds of young activists at Lawrence High School. Around 400 students walked out of classes Wednesday and gathered near the school's front entrance, where sophomore Elliot Bradley read the 17 names of the Parkland victims aloud. His peers stood silently as Bradley spoke of the victims and lives cut short by gun violence. He and his fellow protesters are seeking legislative change in an effort to prevent such shootings in the future, and they say they aren't backing down.
"We're not going to add security systems. We're not going to arm teachers. We're going to make this a safer place," Bradley told his fellow students Wednesday.
Photo Gallery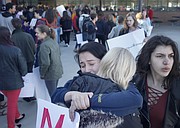 Lawrence students join national walkout against gun violence
Students at Lawrence High, Free State High and other area schools walked out of class Wednesday, March 14, 2018, as part of a national protest against gun violence.
Multiple lawmakers and gun rights activists have proposed such "school-hardening" measures in the wake of the Parkland shooting, with President Donald Trump, notably, suggesting that schools arm teachers to deter shooters. Josie Abernathy, of LHS, said she was motivated to attend Wednesday's protest partly because of what she sees as a slowness or unwillingness by politicians to seriously address the issue.
"There's been way too many instances where this has happened, and the government is doing nothing about it," said Abernathy, a 16-year-old sophomore. "Any day, my peers could die, and it's awful to imagine."
Students expressed similar sentiments in the homemade signs they carried throughout the protest. Their handwritten messages included "Guns don't kill people, legislators do" and "Your greed is funding murder. How many more will it take?" Some paid tribute to victims of the Parkland shooting and other victims of gun violence, bearing names like Michael Brown and Philando Castile, in addition to the children killed in the 2012 Sandy Hook Elementary shooting in Connecticut. Others simply asked, "Am I next?"
Satori Good, a senior at LHS, said she attended that morning's walkout "because the loss of lives is not worth keeping guns around or not having restrictions on them." She wants to see serious change come out of protests like hers and the countless other student-led demonstrations taking place nationwide.
That change, she said, starts with conversation. At the very least, she hopes the Lawrence High protest will get people talking.
"This protest and every other protest around the country — I hope it opens people's eyes that guns are not worth more than children's lives," Good said.
Lawrence High School was also the site of "Wrap the Walkout," a local initiative calling on adults to "wrap" themselves around the school in a symbolic show of support and protection. Around 200 gathered around the school's perimeter Wednesday morning.
Classes in the Lawrence district were to follow the regular schedule Wednesday, and any absences associated specifically with the national walkouts were to be excused, a spokeswoman for the Lawrence district said.
Students at Free State also held a walkout Wednesday, as did some of Lawrence's middle schools.
Free State Principal Myron Graber estimated that about 100 students took part in the demonstration.
Langston Hughes Elementary, instead of specifically targeting gun violence, was hosting a more age-appropriate "Day of Kindness."
Inquiries to the district about protests at other schools are pending.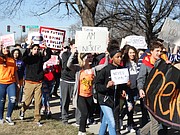 In Topeka, a large rally took place around the Capitol, with hundreds of students and members of the Kansas chapter of Moms Demand Action for Gun Sense in America.
Check back as this story develops.
Copyright 2018 The Lawrence Journal-World. All rights reserved. This material may not be published, broadcast, rewritten or redistributed. We strive to uphold our values for every story published.