Kay Traver says the shamrocks are aligning for a huge St. Patrick's Day Parade.
"It's on Saturday and overlaps with spring break for KU and all the area colleges," said Traver, co-chair of the Lawrence St. Patrick's Day Parade. "The weather is going to be beautiful. The Journal-World last year said 25,000 to 30,000 watched the parade (on a Friday). We should bring in more people this year."
The 31st annual parade will start at 1 p.m. at 11th and Massachusetts streets and head north on Massachusetts Street across the Kansas River Bridge before turning east on Locust Street in North Lawrence. The parade will continue on Locust Street before making a final turn south of North Ninth Street and terminating near Walnut Street.
Traver said viewers should consider watching the parade in North Lawrence. They will find free parking near the grain elevators on Locust Street and won't have to deal with the crush of people watching downtown.
Those staking out viewing spots on the parade route can expect about a 90-minute parade, Traver said. The entry deadline was Tuesday, and the committee does not accept walk-up entries.
"Normally, we have about 100 entries," she said. "We try to keep it to that. On top of that, we have the flag color guards at the start of the parade."
Those claiming downtown viewing spots early will be able to watch the second annual Irish Mile Race at 12:30 p.m. along a Massachusetts Street course and be treated to a plane flyover right before the parade.
"It should release green smoke along the parade route," Traver said.
Parade dignitaries are Grand Marshal Shade Little, husband of former University of Kansas Chancellor Bernadette Gray-Little, and Senior Queen and King Colleen and Kevin O'Malley, Traver said. This year's St. Patrick queen is Britney Sottilare.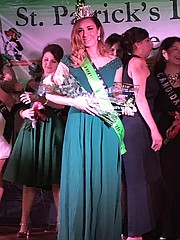 Floats will compete for first-, second- and third-place cash prizes in the three categories of family, nonprofit and commercial, Traver said. There's also a best-in-parade traveling trophy for those competing for no cash prize.
"The committee started it because The Sandbar kept winning and giving the money back to the committee," she said. "I hear there are a couple of new businesses that say they are going to be competing with The Sandbar for that honor this year. So if they work hard, there will be more floats in the parade of that caliber."
Audra Hennecke, meteorologist for the National Weather Service office in Topeka, said those watching the parade might want to wear a light green jacket. Parade-time temperatures are expected to be in the upper 50s with a light breeze out of the north. Partly to cloudy skies will persist from a front that is forecast to move through Thursday night, but showers will clear northeast Kansas by Saturday afternoon, she said.
In the past 31 years, the St. Patrick's Day Parade Committee has donated more than $1 million to 50 local children's charities, Traver said. This year's youth charities are Baby Jay's Legacy of Hope, Cooper's Cause Foundation and O'Connell Youth Ranch. Parade viewers will be able to buy T-shirts and parade trinkets Saturday from a golf cart traveling the parade route to help with the charities, Traver said.
Downtown business owners are preparing for a busy day, said Sally Zogry, executive director of Downtown Lawrence Inc.
"A lot of people come from out of town," she said. "It's a great opportunity for people to come spend the day and refamiliarize themselves with downtown."
Should the Kansas Jayhawks win their first-round NCAA tournament game as expected Thursday, they will play again Saturday. The NCAA won't release the schedule for Saturday's second-round tournament games until after all of Thursday's games are in the book.
Officer Derrick Smith, of the Lawrence Police Department, said the department would have extra officers working Saturday in anticipation that the parade would be larger than usual. The department will announce when and where streets will be closed for the parade later this week.
For more information on the Lawrence St. Patrick's Day Parade and the Irish Mile, visit www.lawrencestpatricksdayparade.com and www.adastrarunning.com.
Copyright 2018 The Lawrence Journal-World. All rights reserved. This material may not be published, broadcast, rewritten or redistributed. We strive to uphold our values for every story published.