Disaster averted. When the Kansas basketball team's offense went stale in the second half Saturday versus Baylor, it appeared the Jayhawks might lose at Allen Fieldhouse for the third time this season.
Instead, KU survived in dramatic fashion, winning 70-67 against the Bears by finishing the game on a 9-0 run.
KU's lead hovered around 10 points much of the evening, until the home team's slow start to the second half allowed Baylor to get within 5 points six minutes after intermission.
The Bears would make it a one-possession game — a 46-43 KU lead on a Mark Vital dunk — at the 12:54 mark, and went on to cut its deficit to 2 with 11:15 to go.
Photo Gallery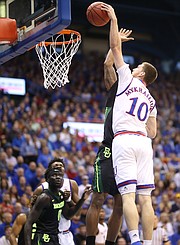 Kansas basketball v. Baylor
View a gallery from Saturday's game between the Jayhawks and Bears at Allen Fieldhouse.
In the meantime, no Jayhawk other than Udoka Azubuike was giving the home team points. Baylor took advantage when KU's offense struggled, eventually taking its first lead of the game with 5:31 left. The Bears put KU in a five-point hole less than a minute later, on the power of a King McClure 3-pointer and a Jo Lual-Acuil Jr. layup. The margin grew to six.
But Manu Lecomte's bucket with 2:50 to play was the final score for Baylor, as Malik Newman and Devonte' Graham put the Bears away in the final minutes.
Newman led all scorers with 24 points and secured a team-best eight rebounds. Graham added 15 points and seven assists, and Azubuike scored 14 points and grabbed seven boards.
Here's a quick look back at some of the action:
• The game turned when: Newman brought some versatility and life to the Kansas offense in crunch time.
Azubuike was the only Kansas player with second-half points (11) until there was 10:18 left to play and freshman backup Marcus Garrett made one of two free throws.
Kansas finally got a second-half basket from someone other than its 7-foot center with 5:21 on the clock, when Graham went in for a layup and a goaltending call on the try tied the game at 56.
It was the first Kansas field goal contributed by someone without the last name Azubuike since Graham's hit a 3-pointer with 7:34 left in the first half.
From there, KU picked up a corner 3-pointer from sophomore Newman, setting off a four-minute stretch during which the 2-guard poured in 12 points.
Graham sealed the win with a pair of free throws with 3 seconds left.

• Offensive highlight: KU converted on every one of its first seven shot attempts against Baylor to sprint out to an 18-5 lead. But none of the field goals were as surprising or electrifying as the one Svi Mykhailiuk violently sent through the rim to finish off a drive.
Related document

Box score: Kansas 70, Baylor 67 ( .PDF )
The Jayhawks already had their collective feet on the accelerator, up 14-3, and had drained each of their four 3-pointers when the senior from Ukraine caught a pass out on the right wing, behind the arc. Always a threat to fire away from long-range, a little ball fake from Mykhailiuk got Mark Vital to bite, providing the Jayhawk he was attempting to guard with an angle for a driving lane.
Two hard dribbles and a takeoff later, Mykhailiuk was at the rim with the ball cocked high above his head, in his left hand. The senior guard known most for his long-range shooting accuracy proceeded to throw down a shockingly strong one-handed jam as a recovering Vital tried unsuccessfully to contest the dunk that sent the fieldhouse fans into a frenzy.
Mykhailiuk went on to have mixed results on drives to the paint in the first half, missing three layups and a dunk attempt. But the success on the first one set an aggressive tone less than five minutes into the game.
• Defensive highlight: There weren't many for the Jayhawks until their massive center from Nigeria came through with some timely defense at the rim in the clutch.
King McClure tried to attack Azubuike with a drive to the paint with a little more than a minute left, and the sophomore center rose up, didn't make contact and altered the layup enough for Newman to snag a miss and take it the length of the floor for a go-ahead, fast-break layup.
Azubuike's defense led to one of the biggest shots of the game, and Kansas took a 68-67 lead with 1:09 to play.
The center showed up as a deterrent near the rim again, with less than five seconds left, when Lecomte tried to float a rainbow high over a leaping Azubuike. A potential game-winner for BU rimmed out and Graham secured the defensive rebound.
• Key stat: Second-chance points. Baylor's offensive rebounding often improves its chances, and it was that aspect of the game that kept the Bears alive Saturday.
BU gathered 12 of its missed shots in defeat and benefited to the tune of 16 second-chance points.
The Jayhawks, meanwhile, had a big, fat zero in that category until 10:18 to play. At that point, following an Azubuike offensive rebound, Garrett made 1 of 2 free throws, giving the home team a single second-chance point.
The Jayhawks finished with 1 point off 10 offensive rebounds.
• Up next: The Jayhawks head to Norman, Okla., for a road test against freshman sensation Trae Young and the Sooners (6 p.m., ESPN). OU dropped to 14-4 overall and 4-3 in the Big 12 with an overtime loss at Oklahoma State on Saturday.
Texas Tech lost as well, 70-52, at Iowa State.
Entering the coming week, Kansas (16-3 overall, 6-1 Big 12) sits alone atop the league standings, with a one-game lead on West Virginia (16-3, 5-2). The Mountaineers disposed of Texas, protecting their home floor five days after Kansas won in Morgantown, W.Va.
---
More news and notes from Kansas vs. Baylor
---
Copyright 2018 The Lawrence Journal-World. All rights reserved. This material may not be published, broadcast, rewritten or redistributed. We strive to uphold our values for every story published.