A woman was flown to a hospital after a rollover crash Tuesday afternoon at the southwest edge of Lawrence.
The crash happened about 1:30 p.m. near the Lawrence Youth Sports Complex.
The woman was driving a pickup west on Kansas Highway 10/South Lawrence Trafficway when she went off the road for unknown reasons, Kansas Highway Patrol Trooper Tyler Bartee said at the scene. The truck rolled multiple times, and the woman was thrown from the vehicle, Bartee said.
The wrecked pickup truck came to rest upright in a grassy area between K-10 and Speicher Road — about a tenth of a mile from where it left the highway.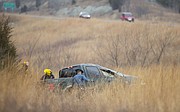 No one else was in the pickup, Bartee said.
It appeared that the woman was not wearing her seat belt at the time of the crash, Bartee said.
Bartee said the woman was flown to a Topeka hospital. He said he did not have details about her condition or injuries, but that she was responsive after the crash.
The Highway Patrol's preliminary crash report, completed later, identified the woman as Patricia D. Shay, 53, of Baldwin City. The investigation also determined that the pickup rolled three to four times, according to the report.
Contact public safety reporter Sara Shepherd
Have a tip or story idea?
785-832-7187

---

More stories
Copyright 2018 The Lawrence Journal-World. All rights reserved. This material may not be published, broadcast, rewritten or redistributed. We strive to uphold our values for every story published.