His body language at the top of the key said, "Please get in, please get in, please get in."
And, after what might have seemed like four or five, time-stands-still seconds, the ball finally obliged.
On a night when nothing came easy for the 10th-ranked Jayhawks, Devonte' Graham's rattle-clang-dip-bang 3-point make with 6:06 to play gave Kansas the breathing room it needed to avoid utter disaster and get back into the win column at Allen Fieldhouse, 71-64 over visiting TCU.
As Graham's 3-pointer — one of five on the night for the KU senior — hit off the front of the rim, then the back and then the back and front again before falling, Graham sat in a crouched position at the 3-point line, willing the ball in with laser eyes and a must-have mindset.
"When it left my hand, it felt like it was going straight in and then it did all of that and I kind of got a little nervous," Graham said. "But it was definitely a big shot."
Photo Gallery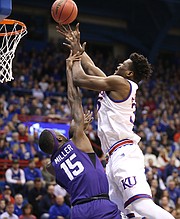 Kansas basketball v. TCU
View a photo gallery from Tuesday night's game between the Jayhawks and Horned Frogs at Allen Fieldhouse.
Relief. Joy. Whatever he called it, the bucket was so big and the moment so exhausting that Graham, who once again played all 40 minutes, could not even complete the mock motion of putting on his three goggles, a move he has perfected throughout the years.
At the time, the shot pushed KU's slim lead to six and forced a once red-hot TCU team into scramble mode. The Horned Frogs, who made seven of their first 13 3-pointers and shot 40.4 percent from the floor for the night, rushed several shots down the stretch and allowed Kansas to turn that six-point cushion into a seven-point victory.
"Coach said we needed a game like this," Graham said after the victory. "Just to grind it out, have to play every possession. … Just playing how we should play every game."
Asked why he thought that, Self clearly explained why.
"That was a good one to win," he said. "We played a really good team that played exceptionally well and shot the heck out of it the first half. Basketball's a weird game, but just think what would've happened Saturday if Svi (Mykhailiuk) scores one point and Malik (Newman) makes one basket (as was the case Tuesday vs. TCU). We would've been beat (by) 30. But we defended better, we rebounded better and when things didn't work out offensively, we found a way to still grind it out. That's what I meant by that."
Related document

Box score: Kansas 71, TCU 64 ( .PDF )
The evidence of just how difficult Tuesday's victory was for Kansas was everywhere.
From the faces and reactions of the players on the floor — after near-makes, tough calls, almost-misses and wild stretches — to the nervous energy from the crowd and the exasperated looks and reactions from the coaches on the bench, it was clear that this one meant something.
And after Saturday's home loss to Oklahoma State, how could it not?
With Mitch Lightfoot in the starting lineup and Self publicly calling for his team to play with better effort, the Jayhawks did exactly that whenever they needed to in order to survive TCU.
It wasn't perfect. There were mistakes. And there will be more.
But Self sounded much more pleased on Tuesday night than he did on Monday afternoon.
"I thought we competed hard," said Self, paying his team the ultimate compliment.
Press Conferences & Post-Game Interviews
Self says defense, energy improved in win over TCU
After a 71-64 home win over TCU, Kansas basketball coach Bill Self said the Jayhawks competed harder than they did last weekend, that he should have played Marcus Garrett more because he played "great" and that Lagerald Vick had a better energy level after he was replaced in the starting lineup.
Although the Jayhawks were never really in a bad spot, almost every possession, on both ends, looked and felt so difficult.
That was evident in the way the players moved, the way the ball bounced and the expressions on Self's face.
One of the best examples of this came early in the second half, when Svi Mykhailiuk entered the paint early on a Udoka Azubuike free throw attempt. As if Azubuike's trips to the line aren't enough of an adventure, giving the point away without even letting Azubuike attempt the shot is not the kind of challenge the KU big man needs when added to his free throw shooting.
On another second-half possession, a hard-driving reverse layup by Graham missed and fell into the arms of Azubuike, who looked to be well on his way to another big slam. But Kenrich Williams' right arm poked the ball away and the shot clock buzzer sounded as soon as Svi Mykhailiuk grabbed the ball. Adding insult to injury, Svi's desperation heave after the buzzer crashed off the glass and fell through. No bucket. Game tied. Let the grinding continue.
Later, as Lagerald Vick drove hard to the rim and absorbed a foul, his layup attempt hung briefly on the rim and fell off the wrong way, forcing Vick to step to the line to earn two points — which he did — instead of getting the favorable roll and a chance at a bonus point. As the ball fell to the floor, KU assistant coach Jerrance Howard rocked from the edge of his seat to the back of his chair in frustration, exhaling, as if to say, "Are we ever going to catch a break?"
At times, the difficult nature of each possession actually paid off.
Four minutes into the second half, with KU trailing by four, Graham nearly lost possession of the ball on the wing but gathered the bouncing ball and quickly fired it to Azubuike in the paint.
Two steps later, Azubuike delivered another rim-rattler and was fouled. On the very next trip, after a defensive stop by the Jayhawks, the ball again went inside to Azubuike and he again imposed his will, this time on both a TCU defender and the rim to tie the game at 42.
It was not just Graham (24 points, six rebounds, five assists) who saved his best for late. After a game's worth of tough fouls, monster dunks and crazy contact, Azubuike (16 points, 11 rebounds in 25 minutes) made two of his biggest plays of the game in the final two minutes.
The first came on a pair of pure free throws that followed TCU electing to purposely put him on the free throw line. TCU coach Jamie Dixon could not recall the exact moment in his postgame interview but admitted that the Frogs (16-8, 4-7 Big 12) did talk about utilizing the Hack-a-Dok strategy.
Didn't matter.
Azubuike drained two free throws to put Kansas up 66-60 with 2:47 to play and put the rest of the game on cruise control.
"I felt like I knew he was going to make them," said Graham, when asked about Azubuike's big trip to the free-throw line.
Added Lightfoot, who said starting his first game as a Jayhawk was "something I've always been working for:" "That's what he does. The big fella knocks down free throws."
Azubuike's other big play, a tap-out after a missed 3-pointer by Graham from nearly the same spot as his big one earlier, merely was the icing on the cake.
The Jayhawks (19-5, 8-3) were not great in this one. But they were darn good when they had to be.
As Dixon put it, "they made the big shots."
As Graham and Self put it, they played the type of game it's going to take to win the conference and make the kind of postseason run they want to make.
"After last game, and playing how we played, we knew we had to come out with a different mindset and we just tried to get out and pressure and cause turnovers," Graham said before being asked if he agreed with Self that this team needed one like this. "Yeah. It's just going to prepare us for March, when every possession matters and you have to grind it out. Malik didn't really score, Svi didn't score, they hit every shot and you just have to find a way to win and I felt like we did that."
---
More news and notes from Kansas vs. TCU
---
Copyright 2018 The Lawrence Journal-World. All rights reserved. This material may not be published, broadcast, rewritten or redistributed. We strive to uphold our values for every story published.