With the Lawrence High girls soccer team facing a one-goal deficit for much of the second half against Free State in Thursday's City Showdown at FSHS, all LHS junior Anna Chieu wanted was a chance to pull the Lions level in crunch time.
While the Firebirds won the possession battle for the majority of the match, Chieu got that opportunity in the 70th minute when the Lions were awarded a corner kick. Chieu tied it up when she elevated for a header right before Free State goalie Kaelyn Weiss could corral the ball for a save. The Lions and Firebirds remained even for the remainder of regulation and two overtime periods, as they played to a 1-1 tie.
"I was like, 'I have to get on this ball and I have to be goal-hungry,'" Chieu said. "I went out and no one was going to stop me from that ball. I was going to get it."
Photo Gallery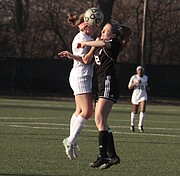 2018 Girls Soccer City Showdown
Lawrence High and Free State played to a 1-1 tie in Thursday's girls soccer City Showdown at FSHS.
The Lawrence High back line of Maria Duncan, Banner Williams, Leslie Ostronic and Bess Davison made sure the Lions remained in position to tie it up with a late goal. Although Free State frequently had the ball in its half, the goal-scoring opportunities didn't mount for the Firebirds.
The best scoring chance for either team in the first half came on a near own goal for the Firebirds in the 40th minute after a failed LHS clearance went off the post.
After a scoreless and fairly uneventful first half, Free State junior Emma Yackley got The Cage rocking in the 44th minute when she rifled a shot from 30 yards out just over the outstretched arm of LHS keeper Victoria Mosakowski.

"It's not unusual anymore. Anybody that has been following our season would know that her right foot has been really, really nice to us," Free State coach Kelly Barah said. "Lately she has scored a whole bunch of really, really good goals. We expect that from her."
Yackley showcased her versatility by scoring with her left foot to break the scoreless tie with the Lions. The Free State junior was in a jubilant mood following her long strike, but there was only one thing on her mind after the match.
"I just wish I could have got another one," Yackley said.
The Firebirds dictated the tempo in the midfield, but weren't able to connect many through-balls up top to their forwards.
"We're really working with our forwards to make some runs that are really important in the final third," Barah said. "When it comes to possession, we really pride ourselves on that. It really showed in the game, so we just hope that the final ball gets through and we can start getting some of those goals."
Rather than playing on their heels to keep the deficit at one, the Lions moved Duncan — who sent in the corner on Chieu's goal — into the midfield to manufacture some offense. LHS coach Matt McCune was pleased to see that the play of the back line didn't fall off when freshman I'yawa Brewer took Duncan's spot.
"She did fantastic," said McCune of Brewer. "She's really calm with the ball. That's where our offense starts."
Thursday's match marked the first tie of the season for the Firebirds (6-2-1) and the Lions (1-6-1).
"I think both coaches were trying for the win instead of trying for the tie," McCune said. "We saw some combination plays, some good shots on goal, so yeah, they got their money's worth. It was a typical City Showdown, for sure."
Copyright 2018 The Lawrence Journal-World. All rights reserved. This material may not be published, broadcast, rewritten or redistributed. We strive to uphold our values for every story published.