Jannette Taylor has always had a purpose in life.

"Some people just want to make a difference in this world," she said. "I think I'm one of those people. I grew up in poverty. Just throughout my lifetime, seeing the differences in neighborhoods, I knew I wanted to make a difference. I want the world to be a better place after I leave."
Taylor is bringing that worldview to Lawrence. On Monday, she will start as the new CEO of United Way of Douglas County. The local United Way board announced Taylor's hiring in July. Erika Dvorske resigned as CEO of the United Way of Douglas County in January to become director of strategic partnerships and development with SS & C Solutions Inc. Rob Mackey has been serving as interim leader of the organization since January.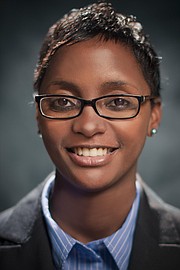 It will be a new chapter in Taylor's professional life, which has been dedicated to working in nonprofit service agencies in her hometown of Omaha, Neb.
Applying her talent to nonprofits was her goal as she worked to escape the poverty of the urban northeast Omaha neighborhood of her youth by earning a bachelor's in business and master's in organizational leadership from the College of St. Mary in Omaha.
Entwined with her determination to make a difference is the belief that one person can make positive change through commitment. It's a philosophy reflected in the name of Impact One, a nonprofit Taylor founded in 2009, and resulting from her witnessing the kind of violence the nonprofit was meant to prevent.
"I was working at the mayor's office at the time," she said. "I was at a convenience store at 2 p.m., making a phone call. I noticed a young man come from behind the building. He had a gun and opened fire. He fatally injured one man and paralyzed the other."
It was a very traumatic, difficult experience to witness, Taylor said.
"I got on my soapbox and started complaining things had to change," she said. "I told everybody if they cared about the community, they had to help. I worked with local leaders and founded Impact One."
The nonprofit sought to reduce gang violence and point at-risk youth away from crime by providing them with other opportunities, Taylor said. Impact One gave teens summer jobs, got them into college early-entry programs, organized tours of colleges and vocational education programs for inner-city youth and provided re-entry programs for those released from prison, she said.
She was the organization's executive director and chief fundraiser.
"I gained a lot of experience in fundraising," she said. "We started Impact One on $500,000 in seed money from a Susan Buffett Foundation grant. A year and a half later, our budget had grown to $2 million."
Taylor left Impact One in 2014. Street violence again played a role in that decision.
"We had this crazy, unfortunate situation," she said. "Two of my cousins were victims of gang violence. It was two separate incidents. The guys who did it were kids who worked for me in summer employment programs. That was a tough pill to swallow.
"It made me focus on the need to change the program. We needed to get to the kids when they were younger. To me, it was a sign it was time for someone else to take the reins."
Taylor nonetheless looks back on her time with Impact One as a period of personal growth for her and a positive experience for the community.
"We had 3,000 people employed in summer programs," she said. "I saw kids go off to college who never would have dreamed of going to college. We had a very effective street intervention program. When we were active in the street, crime was down significantly."
Stepping down from Impact One gave Taylor the time to finish a law degree focusing on negotiation and conflict resolution from Creighton University School of Law as she worked in other nonprofit positions.
Most recently, Taylor was the statewide administrator of children services for Lutheran Family Services of Nebraska Inc. In that position, she oversaw a statewide team of more than 100 employees and was the leader of programs with 30 to 50 AmeriCorps volunteers.
Taylor said in that capacity she was responsible for all the agency's state-contracted children's services in Nebraska, including foster care, adoption and in-home visitations.
While taking on that workload, Taylor said she also worked as a consulting fundraiser for nonprofits.
"I like to work," she confessed. "I have work I love and am passionate about. I think I've been really blessed. I've had a lot of really good people in my corner. A lot of good people supported me and guided my skills."
Peggy Johnson, Douglas County United Way president-elect, said the United Way board was excited to bring Taylor on board just two days before it launches its 2017 fundraising campaign. She predicted the new CEO would have a successful first campaign because she would be an effective communicator of the missions of United Way partners.
"I think she will do an excellent job of articulating what United Way will do for people," she said. "That's what gets people excited: the opportunity to help other people."
Taylor should bring another strength to the agency and community, Johnson said.
"She's excellent about being a connector of people," she said. "She has the ability to bring all different kinds of people together to work for a common goal."
Taylor said she is familiar with Lawrence from visits when her daughter was considering attending the University of Kansas and from her extended family in the Kansas City metropolitan area.
On her early to-do list was building on that familiarity by meeting with the heads of United Way's partners and other community leaders, Taylor said.
"I'm really interested in how partnerships are working now in Lawrence and see if there is the opportunity to build stronger networks that can bring focus to issues," she said.
Contact Douglas County reporter Elvyn Jones
Have a tip or story idea?
---
More stories
Copyright 2018 The Lawrence Journal-World. All rights reserved. This material may not be published, broadcast, rewritten or redistributed. We strive to uphold our values for every story published.