A Lawrence man has been arrested in a Johnson County rape case.
Terrance X. Redmond, 19, was charged Monday with one count of rape, allegedly occurring in March of this year, and had a warrant issued for his arrest, according to Johnson County District Court records. The court set his bond at $100,000.
Redmond was arrested Monday evening at his residence in Lawrence — the Jayhawker Towers apartments on the University of Kansas campus — and transported to Johnson County, according to Douglas County jail records.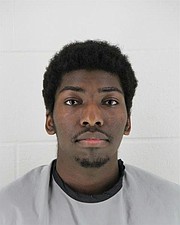 A person by the same name is listed as a KU student, according to the university directory.
Redmond was scheduled to make his first appearance in court in the case Tuesday afternoon, according to Johnson County court records.
Contact public safety reporter Sara Shepherd
Have a tip or story idea?
785-832-7187

---

More stories
Copyright 2018 The Lawrence Journal-World. All rights reserved. This material may not be published, broadcast, rewritten or redistributed. We strive to uphold our values for every story published.