Approximately 800 Lawrence second-graders have made the journey this week to the Douglas County Fairgrounds — and also, through the human digestive system, in a districtwide field trip called "Body Venture."
The main draw at the second annual Lawrence Public Schools event, Denise Johnson says, has traditionally been the "Body Venture" exhibit, which invites kids to enter through a giant model of the human mouth before traveling through larger-than-life organs, such as the heart or small intestines.
"When you teach nutrition and wellness and health for students, it needs to be about being active and participating in it — and not just learning from a book," says Johnson, who coordinates the Lawrence district's health and wellness curriculum.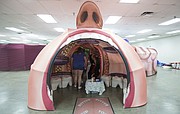 The event, which expanded last year from a traveling exhibit at a few local schools to a districtwide field trip for all second-graders across Lawrence's 14 elementary schools, offers a holistic, hands-on approach to health education, Johnson says.
Along with the popular "Body Venture" exhibit, local partners such as Hy-Vee, The Merc, the Midwest Dairy Council and the K-State Research and Extension Office have all offered activities for kids throughout the week at the fairgrounds, focusing on topics including healthy eating, fitness and where food comes from. The district's own Farm 2 School program, which facilitates school gardens across Lawrence, is also a major sponsor of the event.
For Quail Run second-graders Kamorah Beers and Tallulah Salb, the experience has been illuminating — in some cases, quite literally. At one station, the girls waved an ultraviolet device across their palms, revealing all the bacteria that can collect on our hands.
"After you use the restroom, just wash your hands and clean them off," Kamorah says of what she learned from the activity. "That's what my uncle does. He makes us not touch Kwik Shop doors sometimes, because people don't clean them off sometimes."
Kamorah already knows the importance of good hygiene — "sometimes I just use a tissue," she says of dubious public restroom door handles — but Thursday's blacklight fun helped solidify those habits, she says.
Her classmate, Tallulah, agrees. She says eating healthy and exercising allows kids to "do cool stuff," like "growing strong and big."
In order to do that, the girls learned, it's best to limit screen time — TVs, phones, computers and tablets — to no more than two hours a day. That's time better spent exercising, Tallulah and Kamorah agree.
"That was actually a really good lesson for me, because I haven't played on my tablet for about a week," Kamorah says, though, to be fair, she admits the scaling back wasn't particularly health-motivated.
"I don't know where my charger's at," the second-grader says with a smile.
Copyright 2018 The Lawrence Journal-World. All rights reserved. This material may not be published, broadcast, rewritten or redistributed. We strive to uphold our values for every story published.