A Lawrence man was convicted Friday afternoon of shaking his 3-month-old child.
Derek Joseph Edmonds, 25, was arrested in September 2016 after he was accused of shaking the child, who was born that June, in a way that resulted in "great bodily harm."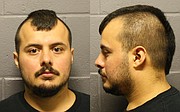 On Sept. 16, 2016, a social worker with Children's Mercy Hospital in Kansas City, Mo., called the authorities after noticing a 3-month-old child was "displaying a multilayer brain bleed and a rib fracture," the Douglas County District Attorney's Office said in a news release. "It would later be discovered that the infant also suffered from retinal hemorrhages."
Police then interviewed the child's parents.
It was during those interviews that Edmonds admitted to detectives "that he shook his infant in an aggressive manner, out of frustration," the release said.
Attorneys gave their closing arguments in the case Thursday morning, Prosecutor Amy McGowan said. Jurors deliberated until Friday afternoon when they returned with unanimous verdicts that found Edmonds guilty of felony counts of abuse of a child and aggravated battery.
Edmonds was represented by Michael Clark.
Judge Peggy Kittel accepted the verdicts, ordered a presentence investigation and scheduled Edmonds to appear in court on July 7 to be sentenced.
Depending on his criminal history, Edmonds faces more than 11 years in prison for each charge.
Copyright 2018 The Lawrence Journal-World. All rights reserved. This material may not be published, broadcast, rewritten or redistributed. We strive to uphold our values for every story published.