A judge is considering whether enough evidence exists to order a Douglas County man to face trial on accusations of killing his neighbors' pet dog with a pellet gun.
Friday afternoon, David Herren appeared in Douglas County District court for a preliminary hearing on a single felony charge of cruelty to animals.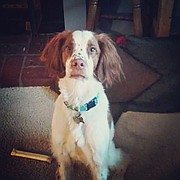 Jessica Graff and her husband, Andrew Surmeier, testified during the preliminary hearing Friday.
The morning of Sept. 28, Graff said she found her family's Brittany Spaniel, Arlo, dead right outside their home in the 1700 block of East 1318 Road. The home is in Douglas County just north of Lawrence.
Previously, Graff said Herren had complained about Arlo growling at his grandchildren, though she insisted the dog was in no way vicious.
After finding Arlo, Graff called Surmeier, who returned home immediately and confronted Herren, who is their neighbor to the north.
"He said, 'Yes, I shot your (expletive) dog,'" Surmeier said of the confrontation.
Surmeier said Herren told him he shot Arlo because the dog had been digging and defecating in his yard.
The two exchanged harsher words, Surmeier said, and he returned home and called sheriff's deputies.
Douglas County Sheriff's Deputy Michael Folks also testified Friday afternoon and reiterated that Herren admitted to shooting Arlo.
When asked by prosecutor Amy McGowan, Folks said he did not see any evidence of digging or defecation in Herren's yard.
Questioned by defense attorney Jim Rumsey, Folks said Herren also said he didn't mean to kill Arlo but just to scare the dog away.
After the three witnesses testified, McGowan argued to Judge Peggy Kittel that enough evidence existed to warrant a trial. However, Rumsey — who submitted written arguments — said McGowan had not eliminated the possibility that Arlo's death was accidental.
With a full docket for the rest of the afternoon, Kittel said she would take the matter under advisement and make a ruling on a later date, which has not yet been scheduled.
Since the felony charge was filed against him, Herren has been ordered not to possess any firearms.
Copyright 2017 The Lawrence Journal-World. All rights reserved. This material may not be published, broadcast, rewritten or redistributed. We strive to uphold our values for every story published.