Superintendent Kyle Hayden has appointed Andrea "Andi" Stipe to serve as principal of Sunset Hill Elementary, the Lawrence school district announced in a news release.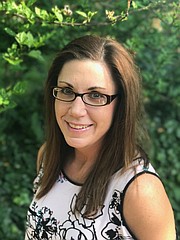 Stipe will begin her new role July 1, pending school board approval. She succeeds current Sunset Hill principal Darcy Kraus, who will serve as the district's director of elementary school support starting this summer after three years leading Sunset Hill.

"Andi is a warm, charismatic person and a dynamic school leader who models effective teaching practices," Hayden said in a statement. "She is a great choice to cultivate positive relationships with Sunset Hill staff and families and support student achievement and success."
Stipe joins the Lawrence district after six years working as an administrator in Kansas City, Kan., where she has served as an assistant principal at Oak Grove Elementary School and as a districtwide English as a Second Language (ESL) coordinator for Kansas City's Turner Unified School District. She previously taught kindergarten and third and sixth grades, and also served as a parent educator for 10 years, according to Lawrence Public Schools' news release.
The veteran educator holds a bachelor's degree and ESL certification from Emporia State University, a teaching certification from Ottawa University and master's degrees from Baker University, the news release said.
"Valuing diversity and setting high expectations for all students has been my priority for the past 18 years. The fact that Lawrence Public Schools have these goals as part of the mission and vision seemed like a perfect fit," Stipe said in a statement.
Sunset Hill currently serves 350 students in kindergarten through fifth grade.
Copyright 2018 The Lawrence Journal-World. All rights reserved. This material may not be published, broadcast, rewritten or redistributed. We strive to uphold our values for every story published.