During a tour of the Lawrence-Douglas County Household Hazardous Waste Center, Tom Hogan pointed to a tub half-filled with metal containers specked with rust.
The tub was in the center's explosion-proof containment room, built with precautions such as added ventilation and electrical grounding, said Hogan, waste reduction and recycling specialist at the center. It's also the room where drums of flammable liquids are stored before being shipped at the cost of $55 to $60 per drum for use as low-blend industrial fuels or for the cement-making process.
The stuff inside the rust-speckled containers was slated for a different destination and would not be reused in any capacity.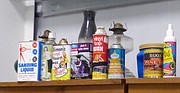 "It's dioxin," Hogan said. "It was banned in the 1970s, and we're still getting it."
It costs about $1,000 to ship a drum of dioxin to one of the two sites that will handle its disposal, Hogan said.
"One is an incinerator for dioxin only," he said. "The other is a landfill in Canada, which is kind of scary."
Hogan is nonetheless pleased the containers of the known carcinogen were brought to the center and are no longer a threat to the Lawrence and Douglas County environment. That's the point of the center: to get harmful chemicals out of county homes and farmsteads, and keep them out of local landfills.
However, not everything brought to the center is shipped off for disposal. Some products are placed on the center's reuse shelves where they are available free to county residents in a window-lit entry room. Many of the shelves are reserved for latex-based paint, but at 40,000 pounds per year, it is the substance most often dropped off at the center.
"It's not considered hazardous waste," Hogan said. "Twenty-five percent of what we get is still good and usable. We give it away on a first-come, first-served basis. We only ask people don't take more than they can use."
Also available for free are a variety of cleaning supplies, automotive products and pesticides with labels in place and in containers with unbroken seals, Hogan said.
It's not unusual for pesticides or other household hazardous waste identified with words on labels such as "danger," "poison," or "caution" to be brought to the center still sealed, Hogan said.
"I think some people buy these thing and then the thought of actually using them scares them," he said.
The reuse shelves will likely fill up this month because in May and July many Lawrence residents look to discard household hazardous waste as they move from homes or apartments, Hogan said.
"Moving companies wouldn't haul this stuff," Hogan said. "Those are our busiest months, especially July."
The center itself had a recent moving day when it relocated to its current site 13 months ago from the old Douglas County Public Works yard just south of 23rd Street, said Kathy Richardson, Lawrence Public Works solid waste division manager. The county continues to be a partner in the facility, providing funding based on the percentage of households the center serves in unincorporated areas and Baldwin City, Eudora and Lecompton, she said.
The new facility was designed and built specifically to be a household hazardous waste facility, Hogan said. It has special features like the flammable containment room and a sloping floor that would prevent an exterior spill, even if an earthquake or other disaster caused every container in the center to start leaking, Hogan said. Another advantage of the new facility is it houses the entire operation in one building rather than the four sheds of the old site, he said.
The only concern is that many people are unfamiliar with the area north of Interstate 70 that is now home to the center. That's not entirely a bad thing either, in Hogan and Richardson's view. County or Lawrence residents won't find the center on any map, or its address or hours listed on any website, because it is a by-appointment-only operation.
"If people call 785-832-3030 on Monday or early in the week, we can usually get in that week," Hogan said. "If they call on Friday, they might have to wait until the next week. On a move-out week, it's definitely recommended they call early."
There are no rules about how residents should deliver household hazardous waste, but Hogan said it was preferred containers be placed in cardboard boxes. Bottles, cans and other containers placed in plastic bags too often leak, he said.
The facility is for households only, but the county does allow county businesses to use at the county's rate its contractor who removes waste from the center to its final destination, Hogan said.
The list of what the center will accept is long. It includes used motor oil, antifreeze and other motor vehicle fluids, all batteries, cell phones, corrosives, aerosols, non-narcotic pharmaceuticals, fertilizers, fluorescent lamps, glues, photographic and pool chemicals, varnish, solvents and thermometers and other devices containing mercury, Hogan said.
The center will not accept asbestos, ammunition, explosives, medical waste, unlabeled materials and radioactive waste, including smoke alarms, Hogan said. Although explosives are specifically banned, potentially explosive materials do show up at the center once or twice a year.
"It's happened once since we've been here," Hogan said. "Picric acid can become explosive if it's exposed to air. It can form crystals under the lid that can explode from the friction of removing the lid."
Copyright 2018 The Lawrence Journal-World. All rights reserved. This material may not be published, broadcast, rewritten or redistributed. We strive to uphold our values for every story published.