Superintendent Kyle Hayden has named longtime administrator Rick Henry as the Lawrence district's new director of high school support.
Henry, who currently serves as the district's director of adult education and student services, will move to his new position beginning with the 2017-2018 school year and pending school board approval, Hayden announced earlier this week.
"Rick's solid and steady leadership presence has always instilled trust and confidence in the people he supervises, his peers and the Superintendent's Leadership Team. His years of building-level leadership experience also contributed to my decision to have Rick working more closely with our high school principals," Hayden said in a news release.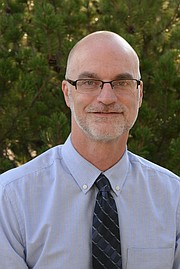 Henry has served as the district's director of adult education and student services for four years, overseeing adult basic education and English as a Second Language services, GED preparation, the Lawrence Diploma-Completion and Suspension Alternative Programs, and the day school operated in partnership with the Douglas County Youth Services at the Northeast Regional Juvenile Detention Center. He previously also served for one year as a district curriculum specialist in the area of career and technical education.
His appointment to director of high school support is part of a recent reorganization by Hayden meant to "enhance support for school building leaders and professional teaching staff," according to the district's news release. Hayden last week announced the appointment of Darcy Kraus, principal of Sunset Hill Elementary School, as the district's new director of elementary school support.

As part of the reorganization, Hayden will eliminate the role currently filled by assistant superintendent of teaching and learning Angelique Nedved, who plans to resign this summer after 13 years in the Lawrence district. The district's teaching and learning department will be combined with the innovation and technology department under the leadership of Jerri Kemble, the district's assistant superintendent of innovation and technology.
"I look forward to collaborating with district and high school leaders and teaching staff in this new role," Henry said in a statement.

A longtime Kansas educator and administrator, Henry joined the Lawrence district in 2012 after serving as principal of Kingman High School in 14 years and Syracuse Junior/Senior High School for four years. He previously served briefly as assistant principal and athletic director of Caney Junior/Senior High School, following five years of teaching high school language arts in Buhler.

Henry holds an associate's degree from Hutchinson Community College, a bachelor's degree from the University of Kansas and a master's degree from Wichita State University, according to the district's news release.
Copyright 2018 The Lawrence Journal-World. All rights reserved. This material may not be published, broadcast, rewritten or redistributed. We strive to uphold our values for every story published.