Sarah Plinsky doesn't anticipate difficulty renting the two new facilities that will be completed in the coming weeks at the Douglas County Fairgrounds.
"I don't know if we are even going to have to market it," the assistant Douglas County administrator said. "Weekend rentals at the fairgrounds generally fill up. These facilities tend to sell themselves. Most weekends before the expansion, the fairgrounds were at capacity."
Construction on the $7.95 million fairgrounds renovations project is nearing completion. Only final inspections remain before the $2.75 million Open Pavilion and the completely redone $1.75 million, 1,935 seat Outdoor Arena are opened.
Other key project enhancements are new restrooms, 184 additional parking spaces, and the 7,600-square-foot Jim Flory Meeting Hall, which is equipped with its own kitchen.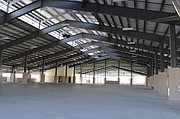 In confirmation of Plinsky's marketing prediction, the Open Pavilion is already rented for the first four weekends in May, said David Sparks, county director of maintenance.
"We have a swap meet the first weekend in May, the 4-H livestock show the next two weekends and then, believe it or not, an auction," he said. "It's a big area with lots of square footage."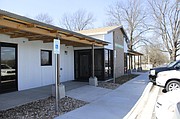 The first of the new facilities to open was the Jim Flory Meeting Hall, which was finished in time for the Douglas County Fair last summer. It has been popular since it opened, replacing two "dilapidated" halls.
"It's very flexible and family friendly," she said. "I think a lot of folks who rented Building 21 in the past are moving over to the meeting hall, which frees us up to do more work on Building 21 and use it differently."
If the county doesn't intend to directly market the fairgrounds, there is a plan to get the word out about what the east Lawrence site has to offer.
"Our hope is to work more closely with eXplore Lawrence," Plinsky said. "They have groups they know who are looking for what we have to offer."
What can be marketed is a space unlike any other in the region, which already attracts groups from Leavenworth, Johnson and Shawnee counties, Sparks said.
"We have a group from Shawnee County coming in for barrel racing and calf roping every other weekend," he said.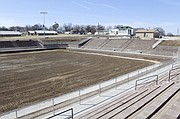 The Open Pavilion and Outdoor Arena only enhance the fairgrounds' appeal, said Plinsky, who repeatedly characterized the facilities as "flexible" and "unique." The fairgrounds now has 42,000 square feet of enclosed, dirt surface space with the Community Building, 52,000 square feet of three-season concrete surfaced space in the Open Pavilion and an Outdoor Arena, which now can accommodate many more activities with its expansion, she said
"One of the advantages of having the additional places is to allow more people in and to have better options for them," she said. "The Outdoor Arena was really designed to do everything from rodeos, horse shows, tractor pulls, BMX racing and other bicycle races."
There is also the expectation groups will be interested in renting the Community Building, Open Pavilion and Outdoor Arena together or a combination of two of the facilities for such things as big horse or livestock shows.
"It's hard to push that until those last two facilities are ready," Plinsky said. "When we designed the project, the subject matter experts we talked to spoke about the possibility of using all three of those facilities together. We are very open to that possibility. We are also open to having three different events at three different places, depending on what people want. That's nice, because in the past when a group was going to take up space, they had to rent the whole fairgrounds. Now, we have the ability to host multiple events at the same time."
One new amenity added with an eye to larger gatherings was a 16-stall RV campsite with electrical connections. Sparks said the stalls, which are available only to those attending an event at the fairgrounds, were already available for renters.
Although the project's big facilities were exciting, the importance of lesser improvements shouldn't be overlooked, Plinsky said.
"I know it sounds pretty boring, but we've expanded the parking options and some of those early on," she said. "Having more paved parking makes the fairgrounds so much more ADA accessible. One of our main drivers for this project was to make sure the fairgrounds were accessible to as many county residents as possible. We took a lot of effort in the Outdoor Arena to make sure all citizens can enjoy events there."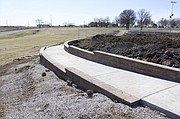 Although there was considerable focus on making the fairgrounds an attractive venue for renters, its chief purpose is, of course, to be the home of the Douglas County Fair. Plinsky said the new facilities provide the opportunity for the fair board to add new elements to the annual event, but that this would be a learning year as the board worked through its first experience with the enhancements.
Douglas County Fair Board President Shane Newell agreed, but looked forward to a good fair as people turned out to see the improvements. 
"As the years go by, we'll look at adding more things that fit," he said.
The completion of the Open Pavilion and Outdoor Arena will not mean the end of work at the fairgrounds, Plinsky said. The Douglas County Extension, its master gardeners and other community partners will begin work on the fairgrounds' landscaping this year. The goal is to encourage more use of the grounds by adding trails, educational and demonstration gardens, playgrounds, signage and kiosks.
For Plinsky, the end of the building project completes an effort that started in 2011 when she and former County Commissioner Jim Flory dusted off plans for fairgrounds improvements from the previous decade as a starting point to the enhancements.
"It's been a long process, but it's been a relatively smooth one," she said. "Our contractor, Mar Lan Construction, and Treanor Architects were wonderful to work with. We had one event that brought in 10,000 people that Mar Lan was able to work around without causing them any real problems."
Contact Douglas County reporter Elvyn Jones
Have a tip or story idea?
---
More stories