Angelique Nedved, the Lawrence school district's assistant superintendent of teaching and learning, will resign at the end of the school year, effective June 30.
Nedved, who has served in that role since 2013, is leaving the district to take a position as director of school quality at SchoolSmartKC, a newly formed nonprofit organization currently part of the Ewing Marion Kauffman Foundation. SchoolSmartKC "seeks to improve the performance of schools in the Kansas City, Mo. public school system," according to a news release issued Thursday by the Lawrence district.
"Dr. Nedved is recognized nationally as a pioneer in improving support for teachers and students through personalized learning. She has led the district's field test of the blended learning instructional strategy, guiding its expansion from eight classrooms in 2013 to more than 300 classrooms this year," Superintendent Kyle Hayden said in a statement. "By directing this paradigm shift to a blending of the best of traditional teacher-directed instruction and digital learning, Angelique has made lasting contributions to the way in which our schools extend the reach of effective teachers and enhance student engagement and motivation."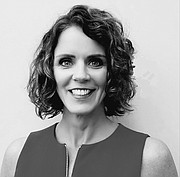 Nedved joined Lawrence Public Schools in 2004 as principal of Schwegler Elementary School. She became the district's division director of instructional services in 2007, and later served as division director of curriculum and instruction.
In her current role, Nedved oversees educational programming, including the district's efforts to provide instructional support through "an engaging curriculum using enhanced technology," the development of a digital curriculum, extension of the blended learning model of instruction in personalized learning environments, professional development training for teachers, and the implementation of the Kansas College and Career Ready Standards, the news release said.
"People come to mind when I think about my tenure with Lawrence Public Schools. I value the relationships established from our organization's greatest asset and could not have asked for better individuals from which to learn and grow," Nedved said in a statement. "This was not an easy decision to make and comes with sincere gratitude for the many opportunities afforded me over the past 14 years."
Before joining the Lawrence school district, Nedved served as an elementary principal and teacher in Solomon, Hill City and Brogue. She has also worked as an adjunct professor at Fort Hays State University, as well as an instructor at Colby Community College. Nedved holds a bachelor's degree from Kansas State University, bachelor's and master's degrees from Fort Hays State University, and a doctorate degree in educational leadership and policy studies from the University of Kansas.
The news release did not mention any concrete plans to fill Nedved's position. Instead, it said Supt. Hayden "plans to evaluate the district's leadership structure and consider ways to enhance the educational experiences of students and provide greater support for teachers and school administrators."

Copyright 2018 The Lawrence Journal-World. All rights reserved. This material may not be published, broadcast, rewritten or redistributed. We strive to uphold our values for every story published.