Topeka — The Kansas Senate beat back efforts Thursday to impose immediate cuts on public schools and state agencies, instead passing a bill that closes a $281 million revenue shortfall for the next three months.
The Senate voted 27-13 to pass its own version of what's known as a "rescission" bill, setting up a conference committee process that will likely begin next week to negotiate differences with a bill the House passed in early February.
Senate President Susan Wagle, R-Wichita, joined by a handful of conservative Republicans, tried to amend the bill to include an across-the-board cut of 2 percent, or about $105 million, which schools and agencies would have had to squeeze out of their budgets in the final three months of the fiscal year.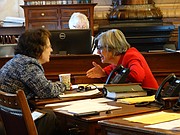 Budget analysts estimated that would have taken about $65 million from K-12 public schools, with a requirement that any spending cuts local school districts make come from "non-instructional" expenses.
"I believe that in order to climb out of this sinkhole we find ourselves in right now, we need to do what Kansas families do when they experience a shortfall," Wagle said. "We need to cut. We possibly need to borrow. And then we need to go to the boss and ask for a raise."
But Democrats and moderate Republicans, who gained significant strength in the 2016 elections, said they were not willing to consider any cuts to public schools, especially in light of the recent Kansas Supreme Court decision that said current funding is already unconstitutionally inadequate.
"This is only going to compound the problem and send a very poor message across the street to the Supreme Court," said Senate Democratic Leader Anthony Hensley, of Topeka. "It just flies in the face of what the Supreme Court has asked us to do in terms of providing both adequate and equitable funding for our schools."
Sen. Lynn Rogers, D-Wichita, who also serves on the Wichita school board, said that for schools, cutting 2 percent out of their budgets when 77 percent of the school year has already gone by would be nearly impossible.
"It is very difficult to look at a 2 percent cut, non-instructional only, in a year when we've already spent 77 percent of our contracts," he said.
The amendment failed, 7-33.
Sen. Dennis Pyle, R-Hiawatha, then offered alternative amendments, first a 1 percent, then a one-half percent cut, but those amendments failed by similar margins.
The bill does call for delaying about $150 million of a payment due at the end of the year into the Kansas Public Employees Retirement System, but that money would be paid back over 20 years, with interest, so over the long term it would not add to the system's unfunded liability.
It also delays, by one day, a $75 million payment to public schools, so they receive it on July 1, the first day of the new fiscal year, instead of June 30.
Finally, it calls for borrowing enough money from an idle funds investment account to leave the state with a $50 million ending balance in the state general fund on June 30.
Copyright 2018 The Lawrence Journal-World. All rights reserved. This material may not be published, broadcast, rewritten or redistributed. We strive to uphold our values for every story published.