Details about an armed bank robbery in Lawrence more than a week ago are still few and far between.
Representatives from the Lawrence Police Department have declined to answer questions regarding the suspect and details of the March 6 armed robbery at U.S. Bank, 1807 W. 23rd St.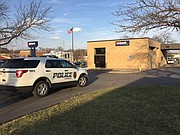 At 3:47 p.m. that day, Lawrence police officers were dispatched to the bank for the reported armed robbery, Sgt. Amy Rhoads said that afternoon in a release.
Earlier, a male suspect entered the bank, displayed a weapon and demanded cash, Rhoads said. He reportedly fled south on foot.
No injuries were reported during the robbery.
Law enforcement officials, many of them armed with rifles, patrolled the area for hours after the robbery.
The next day, the department released several photos of the suspect, asking anyone with information to call 785-832-7501.
As of Thursday morning, no arrests in the Douglas County Jail's online booking logs appeared to match the robbery, and police have declined to answer multiple follow-up questions about the incident.
On Thursday, Rhoads said public pages of police reports regarding the robbery were not yet available. She did not say when the reports would become available.
Copyright 2018 The Lawrence Journal-World. All rights reserved. This material may not be published, broadcast, rewritten or redistributed. We strive to uphold our values for every story published.