Working in government affairs for the past five years, Lori Hutfles says, has meant a lot of time sitting in on committee meetings at the Statehouse. And Hutfles, one of 19 official candidates vying for the Lawrence school board seat vacated last month by Kristie Adair, believes she can apply what she's learned from Topeka to a district facing many of the same funding challenges that have impacted public schools across the state.
"What becomes clear is there are a lot of great ideas for things we can do, but particularly this year and probably next year, it's going to have to be prioritizing the funds we do have for the objectives that are most important," Hutfles says of the Kansas school system that she and many others — including, recently, the Kansas Supreme Court — have decried as inadequately funded.
The longtime Lawrencian and mother of two says she's driven by a "commitment to public education" in her run for the open school board seat. Originally from Johnson County, Hutfles attended the University of Kansas, graduating with a bachelor's degree in design and visual communications in 1984. Before marrying and settling in Lawrence permanently in 1995, Hutfles, then Lori Majure, briefly served in the Kansas House of Representatives as a Democrat from Merriam.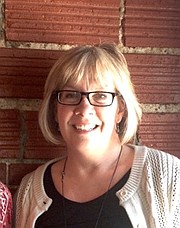 Hutfles, who has also worked as the marketing director for the Kansas Department of Commerce and as the development director of the KU Endowment Association, co-founded Hutfles & Associates with her husband, Mike Hutfles, in 2012. Hutfles says she mainly works in association management but also lobbies for environmental and water reforms at the state level, among other interests.
As a product and supporter of public schools, Hutfles says she didn't plan on sending her son to Lawrence's private Raintree Montessori School through his eighth grade year. But, she says, "we sent him there for preschool and decided to never leave" because of the learning environment offered by a Montessori education. Hutfles' son is now a freshman at Free State High School, where her daughter graduated last year.
"I don't believe in vouchers at all," she says. "But I do believe it would be helpful if we had different opportunities to teach kids in different ways, because I think kids learn in different ways."
As a school board candidate, Hutfles says she would leverage her experience as a communicator and small-business owner to help the Lawrence district through the "financially lean times" ahead. She's also interested in measures to retain Lawrence's teachers, "to encourage them to stay here and help grow our school system" in the face of funding challenges.
"Sitting down and understanding the priorities of the district and the teachers and the students and the parents, and trying to hit those priorities while at the same time staying within the budget you've got — that's critical," Hutfles says.

"Budgeting is not nearly as exciting as some other things," she adds. "But it's the way you can take care of things."
Lori Hutfles is one of 19 official candidates to apply for the school board seat vacated by Kristie Adair. Applicants will meet with board members at the board's regular meeting, slated for 6 p.m. Monday at district offices, 110 McDonald Drive.
Copyright 2018 The Lawrence Journal-World. All rights reserved. This material may not be published, broadcast, rewritten or redistributed. We strive to uphold our values for every story published.