As a candidate for the Lawrence school board, Ruben Flores says he wants to "strengthen" the way the board members engage in conversations about diversity and equity.
The topic has been visited — and revisited — at board meetings, public discussions and on social media throughout the 2016-2017 school year, and the school board has come under fire in recent months for what some have perceived as a tepid response to wide-ranging concerns about equity in Lawrence schools.

But Flores, an associate professor of American Studies at the University of Kansas, says he's generally been impressed by the public schools his own children, now at Hillcrest Elementary School and West Middle School, have attended in Lawrence. He also sees room for improvement, particularly in regard to equity issues, and believes he could help.
"I think symbolically it's important for the community to see people of color on the board, so that in itself is important," says Flores, who is Mexican-American and specializes, among other research areas, in the integration of school systems in the U.S. and Mexico.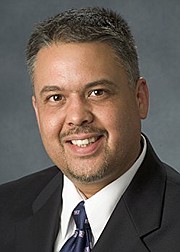 But Flores also acknowledges the discomfort some might feel in discussing race, and he says he could provide insight that might ultimately lead to "forthright," meaningful and productive conversations with students, parents and community members.
Originally from El Paso, Texas, Flores attended Princeton University, graduating in 1994 with a bachelor's degree in history. He then earned his master's and doctorate degrees in history from the University of California, Berkeley, in 2001 and 2006, respectively, before joining the KU faculty in 2007.
"I think oftentimes people approach the question of diversity as a problem or a question, and I don't really see it as a problem to be addressed or a question to be answered," Flores says, adding, "What I would like to do is think systematically about how we expand the range of diversity in the direction of the places where it doesn't exist, both at the programming level and the administrative level."
As a school board candidate, he says he appreciates the idea of establishing a designated staff member at each building "specifically trained to consider questions of equity on a daily basis." He also sees the recent appointment of Anna Stubblefield, the district's former assistant superintendent of education support, to a new assistant superintendent role that also includes oversight of equity work, as a step in the right direction.
It's also important, Flores says, to consider the experiences of students in the district's efforts to create equitable learning environments. These kids "go to the middle schools and high schools every day," he says, and as educators and parents, it's imperative to listen when students say they're being bullied and harassed.
"Sometimes it may mean teacher training, cultural competency training. It means an awareness of moments at lunch or in the hall or even in classroom discussions, of bullying," Flores says. "Sometimes it's even hidden, and we need to make sure that we're attentive to those episodes so that we can intervene."
"Now, that's not going to solve the larger, systemic (issues)," he adds, "But it goes a long way toward helping to identify what those issues might be so we can develop a more comprehensive plan."
Ruben Flores is one of 19 official candidates to apply for the school board seat vacated by Kristie Adair. Applicants will meet with board members at the board's regular meeting, slated for 6 p.m. Monday at district offices, 110 McDonald Drive.
Copyright 2018 The Lawrence Journal-World. All rights reserved. This material may not be published, broadcast, rewritten or redistributed. We strive to uphold our values for every story published.