Those on the Lawrence school board — and those who frequent the board's meetings — may find a familiar face in Melissa Johnson, 38. The teacher and mother of three has been a mainstay at school board meetings since last fall, when talk of equity issues often dominated headlines and public conversations between board members and parents like Johnson.
"I think I've listened," she says. "And I feel like I can contribute in a positive way."
Johnson is one of 19 candidates to apply for the school board seat left vacated by Kristie Adair last month. Her path to public service, should she win the appointment, has been fraught with "obstacles" at times. As a single mom, it hasn't always been easy for Johnson and her three kids, the eldest of whom, Lawrence High School senior Jazmyne McNair, was selected as the Boys & Girls Club statewide Youth of the Year in 2016.
"I've tried to show them that if you really apply yourself and you persevere, that you can do anything you want to do. And they're doing it," Johnson proudly says of her kids, who attend LHS and Liberty Memorial Central Middle School. "That's what I try to instill in my students as well."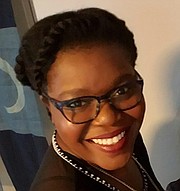 Johnson, now a second-grade teacher at Whittier Elementary School in Kansas City, Kan., grew up in the New York City borough of Queens. After graduating from high school, Johnson joined the U.S. Marine Corps, which took her across the world to Okinawa, Japan, where she met and married her husband, also a Marine. Together, the two eventually moved back to the states, living in California and then Kansas. After separating from her husband, Johnson relocated with her kids to Lawrence, where she ultimately earned a bachelor's degree in elementary education in 2007.
Now "slowly working on my master's," Johnson says she's "always furthering my education." Through her school district, she's enrolled in literacy classes meant to give teachers strong foundations for introducing culturally relevant topics and materials into their curricula, Johnson says. As a teacher, Johnson says she's also working toward closing the "opportunity gap" for the English language learners (among them Sudanese and Nepalese refugee children) she serves in her classroom.
As a school board candidate, Johnson said she'd focus on equity issues and fighting for "the transparency that a lot of patrons feel is lacking within the school board." Addressing the equity challenges faced by the district, she says, will take collaboration, and Johnson says she'd like the school board to work more closely with community partners, among them KU, in identifying problems and developing solutions. "Being a black woman," as well as a single mom, she adds, "I feel like I can offer insight into the equity-related issues that we're trying to improve on."
Johnson has also been involved over the last several years with Lawrence's sister city exchange program, notably traveling to Hiratsuka, Japan, two years ago as a chaperone. Visiting local schools "with my teacher hat on," Johnson says, allowed her to see the potential benefits of meshing aspects of the Japanese school system with her own educational philosophies.
In some Japanese schools, children bring their own hand towels to class, eliminating the need, Johnson says, for paper towels.
"Why not try something like that and see how cost-effective it is?" Johnson suggests. "Not to mention it's probably better for the environment."
Johnson is one of 19 applicants for the open school board seat, which the board will fill at its March 27 meeting.
Copyright 2018 The Lawrence Journal-World. All rights reserved. This material may not be published, broadcast, rewritten or redistributed. We strive to uphold our values for every story published.