Several reports of power outages and downed trees came in the wake of a severe thunderstorm Monday evening, but no other significant damage or injuries were reported, area officials said.
In Lawrence at least one crew of city employees worked Tuesday morning to remove a large silver maple that had been uprooted by the wind Monday night at 945 E. 10th St.
Just after 7 p.m. winds gusted at a peak of 59 mph in Lawrence, said Audra Hennecke, a meteorologist with the National Weather Service in Topeka.
When winds reach 58 mph the NWS begins issuing severe storm warnings, Hennecke said. At that point the wind has potential to cause severe damage.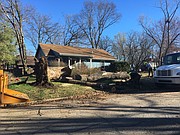 After the storm died down a bit, Hennecke said winds continued to blow between 30 and 40 mph from 9 p.m. to midnight in Lawrence.
In Eudora, the fire department called in extra people in case the severe thunderstorm began to wreak havoc.
Monday night the NWS issued severe thunderstorm warnings for Lawrence, Eudora and Baldwin City, as well as a tornado watch.
Fortunately, Eudora Fire Chief Ken Keiter said, the extra help was not needed; the town saw only a bit of hail and no significant damage during the storm.
"No tree limbs down, nothing," he said. "No injuries, at least none that we're aware of. Nobody that called 911."
Keiter said the storm began calming down in the Eudora area before 9 p.m.
Hennecke said that aside from windy and dry conditions the Douglas County area will likely not see any more severe weather in the immediate future.
Copyright 2018 The Lawrence Journal-World. All rights reserved. This material may not be published, broadcast, rewritten or redistributed. We strive to uphold our values for every story published.