Sending her children to different middle schools — the oldest attended West, the two middle siblings attended Liberty Memorial Central — caused Kyung Hwang to take a closer look at her local schools.
Comparing notes with friends, the mother of four observed how "some families are more privileged than others," Hwang says, and how socioeconomic factors at home might affect students' success in the classroom.
Hwang, a nurse, is one of 19 candidates to apply for the Lawrence school board seat left vacated by Kristie Adair last month. If appointed for the position, Hwang, 45, says she'd advocate for all students "so they can have a better chance in their future, no matter what their parents do."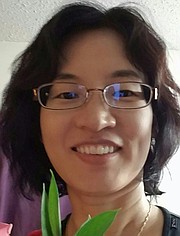 Born in South Korea, Hwang moved to Lawrence in 2000 to start a new life with her husband, who was then a student at the University of Kansas. In her native Korea, Hwang earned a nursing degree from Gangneung Yeongdong University in 1993, which she has put to use here in Lawrence as a volunteer with the Visiting Nurses Association and Lawrence Memorial Hospital.
Recently, the "full-time mom" has also become a full-time student, studying business administration at Johnson County Community College and also working part-time as a student ambassador for the college. In addition, she holds a certification from JCCC's Cavalier Leadership Development Program, and has served as a student senator.
Hwang, whose oldest child is now a senior at Lawrence High School, has also volunteered for five years on the Pinetree Townhouses co-op board of directors.
As a school board candidate, Hwang says she'd work to create a level playing field for all students. As a health care professional, Hwang also says she'd like to see an improvement in school lunches. They're "not healthy enough," Hwang says, and she'd like to see a push toward more nutritious meals.
And, "As a parent of (the) USD 497 district, I feel that I can help the school children for their education and their future with the experience I have accumulated for more than 13 years," Hwang added in an email.
The deadline to submit an application was 5 p.m. Monday. School board members are expected to appoint the new board member by early April. The appointee will serve the remainder of Adair's term, which ends on Jan. 8, 2018.
Copyright 2018 The Lawrence Journal-World. All rights reserved. This material may not be published, broadcast, rewritten or redistributed. We strive to uphold our values for every story published.