As a mother of six, Mitzi Robinson makes a habit of keeping up with the Lawrence school board. She hasn't always been happy with the board, particularly in regard to its recent handling of constituent concerns over equity issues, but also says that's partly what "sparked an interest" in applying for the school board's open seat left vacated by Kristie Adair last month.
"I want to be part of the solution and not just sit back and complain at the school board meeting that nothing's been done," says Robinson, 35, who also says she's interested in the school board's budget and policy-setting processes. "I want to be proactive."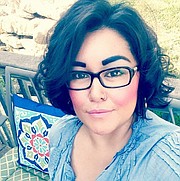 If chosen for the position, Robinson says she'd represent "people like me — people of color, hard-working people, parents, single parents." Hers is a voice she feels is badly needed on the board, which in recent months has come under fire, notably in a Dec. 12 meeting that was disrupted by protesters, for its response to racial equity issues.
Robinson is of American Indian ancestry, and belongs to the Southern Cheyenne, Kiowa and Arapaho tribes. She was born in Oklahoma, but moved with her family to Lawrence at a young age and attended public schools here from second grade through high school. A 2002 graduate of the former Lawrence Alternative High School, Robinson went on to earn a bachelor's degree in media from Haskell Indian Nations University in 2006.
She has spent most of her working life as a stay-at-home mom, caring for her brood of kids (all enrolled in Lawrence Public Schools) who range in age from 6 to 18. That's in addition to Robinson's full-time job as an engine parts specialist at MV Transportation, where she's worked for the past five years. In her free time, Robinson coaches baseball for the Lawrence Parks and Recreation league in addition to serving as a leader in her kids' Boy Scouts troop and on school PTAs.
In American Indian cultures, quiet demeanors and respect — particularly for elders and other authority figures — is highly valued, Robinson says. That's how she was raised, and that's partly why, she thinks "it's difficult for us to speak up for ourselves and advocate for ourselves."
Robinson wants to change that.
"We're a respectful culture, and I think it takes a spark and a few people that want to be leaders to come forward. That's why I feel like I have enough of my footing here in Lawrence," she says. "I'm comfortable with my community members and my colleagues and everybody around me, because I've been here for so long."
The deadline to submit a school board application is 5 p.m. March 6. School board members will review applications at their March 13 meeting and then appoint one applicant to serve the remainder of Adair's term, which ends on Jan. 8, 2018.
Copyright 2018 The Lawrence Journal-World. All rights reserved. This material may not be published, broadcast, rewritten or redistributed. We strive to uphold our values for every story published.