After reaching the Class 6A state tournament for the first time in 13 seasons, Free State's volleyball players have their eyes focused on a repeat performance.
Even with the same expectations, that doesn't mean the offseason started without some new changes.
The Firebirds have a new coach, Keely Hammontree, and are learning to play without a large group of graduated seniors.
But following the completion of their weeklong team camp at FSHS, the Firebirds believe they are starting on the same path to a successful season.
"I feel like the energy is better because all of us know what can be done so we want to do it again and we want to make sure we do it again," senior Murphy O'Malley said. "It's not really pressure but we're more eager to get that same result."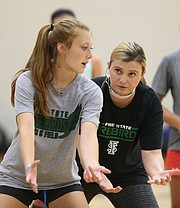 At the team camp, which ended Friday, the Firebirds focused on learning different skills on the court and did their best to build chemistry together.
Hammontree, who was an assistant coach at Mill Valley for four years, wants the program to have some cohesion from the freshman level all the way to the varsity squad. They completed some lighthearted team-building games and activities each day.
"Getting to know the girls and their personalities this week has been kind of the top priority," Hammontree said. "Kind of seeing where they fall in volleyball skills as well, but it's been awesome so far."
The Firebirds, who are hoping to grow their freshman class by the start of the season in August, finished last year with a 35-7 record. They believe there are enough varsity returners to feel confident about a return trip to the state tournament.
For them, the biggest thing was learning what it takes to compete with the top teams in the state last year.
In fact, several Free State players said the start of team camp brought back memories of their run to the state tournament.
"It feels great," senior Cameryn Thomas said. "It feels kind of like we never left. It's been a lot of fun this week."
O'Malley added: "This is like the start of what we had last year. We want to build that family again and this is how we do it. I feel like it's a lot of team-building, especially."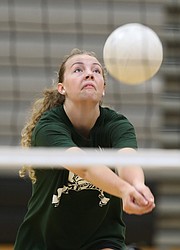 Along with the same goals of reaching state, Hammontree was happy to see the leadership of the newest group of seniors.
This summer was their first chance to take the lead role in drills and practices.
"Our leaders, our seniors, are top-notch," Hammontree said. "They are vocal in what they want out of it. Expectations are top-notch for what I've typically had at my previous schools and even in club. I think the goal, obviously, is to get to that same spot, if not higher."
With the days ticking down until the start of the season, the Firebirds are just excited to be back together on the court.
"Pressure is on," senior Haley Wolcott said, "but it's a good pressure."
Copyright 2018 The Lawrence Journal-World. All rights reserved. This material may not be published, broadcast, rewritten or redistributed. We strive to uphold our values for every story published.