There weren't a ton of participants at Free State High's girls soccer camp this week, but the Firebirds didn't have any complaints.
With two workouts each day, players had plenty of opportunities to bond and improve on the field.
"Last year we had more, but the girls camp never really has very many," Free State junior Brittany Hoffman said. "It's kind of nice working with a small group because you get to know them and you get to work on more individual things."
Similar to Free State's boys team camp, the girls worked on technical aspects in their two-hour morning session before shifting to gameplay in the afternoon.
The biggest focus during the week was in the offensive third of the field. The Firebirds finished last season with a 6-10-1 record and they are motivated by the way they ended the year with losses in seven of their last eight games.
That meant drills designed to pass and receive the ball when forwards are within their shooting range.
"It's kind of like looking at where to go, decision-making," Hoffman said. "The whole point of this camp that (coach Kelly) Barah said was vision and decision-making. That's basically what we've been focusing on."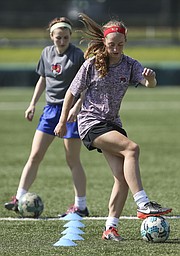 There were about 15 players in the camp on the final two days, which concluded Friday, and they spent time working in a one-on-one drill. One player would bounce the ball and sprint into the net as a goalie while another player would try to catch the bouncing ball and fire a shot past their teammate.
"(Barah) wants us just to go to the goal basically," Hoffman said. "If it's not there, pass it back, then pass it around, play it back and get comfortable. If you see an opening, look for the gaps. That's basically what he tells us to look for."
Sophomore Kenzie Rorabaugh added, "It helps with our technical work and our passing and moving, especially for the new girls coming in so they get our style of play."
After graduating four seniors, the Firebirds remain confident that they can pick up from where the season ended last month.
Plus, they are hopeful they can increase their offensive attack, putting more pressure on opposing defenses.
"The long balls are really what I need to work on, receiving those," said Rorabaugh, a forward. "Always being in the right spot to receive the ball to shoot."
One year ago, Rorabaugh was a newcomer to Free State's team camp. She used this week as a chance to relate to her younger teammates about the high school level.
The small group size helped with instruction — "It's easier correcting one person once you get to know them better," Rorabaugh said.
It's only been about a month since the season ended, but the Firebirds were happy to begin working toward next year, even if they were adjusting to some new faces.
"I miss it," Hoffman said. "I'm already ready for the new season."
Copyright 2018 The Lawrence Journal-World. All rights reserved. This material may not be published, broadcast, rewritten or redistributed. We strive to uphold our values for every story published.